Assistive Technology Program

Assistive Technology
What is Assistive Technology?
Assistive Technology (AT) is defined as any piece of equipment, product system or service used to increase, maintain, and/or improve functional capabilities of individuals with disabilities or limitations (ATIA, 2017). This term can refer to any type of assistive, adaptive, or rehabilitative device, along with the process of using these devices. Assistive technology can range from low tech to high tech devices depending on the individual's needs and their given environment. Check out demonstrations of assistive technology on our YouTube channel.
When can I use Assistive Technology?
The use of assistive technology is appropriate when there is a barrier to accomplishing an activity of daily living. This may be caused by an array of chronic conditions and/or diagnoses. Assistive technology offers a possible solution that may help provide individuals with more independence and prevent additional harm or injury. For example, an individual who has low vision or paralysis may install Dragon Dictation software to their computer which would allow that individual to communicate and use their computer without having to type or read the screen. The usage of assistive technology is individualized to each person given their specific abilities, needs, and environment.
Where can I find Assistive Technology?
Since assistive technology is such a broad term and has many variations, the best way to explore these options is to call; Easter Seals Iowa Assistive Technology Program at 1-866-866-8782 (toll-free) or 515-289-4069 (TTY). A team member will support you in identifying possible solutions that may assist a specific need. A team member can also provide demonstrations so the individual will be able to learn how to use the device(s). The Lending Library allows an individual to try devices free for 30 days allowing the individual to decide if a particular device will work well for them before they decide to purchase it. If applicable, the Durable Medical Equipment (DME) program has available recycled and refurbished devices for a loan as well. If you have any questions or inquiries, please contact us.
Check out the links below for additional information:
The Easterseals Iowa Assistive Technology Program helps Iowans learn about and access the assistive technology (AT) they need as part of their daily lives to live, learn, work, play, and participate in community life safely and independently. Visit www.iowaat.org for more information and additional resources.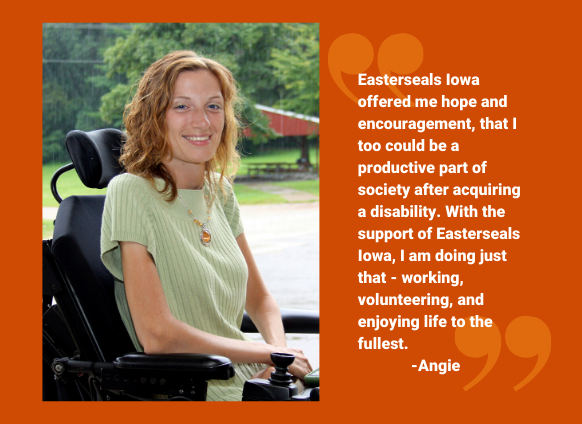 ---
Assistive Technology Opportunities:
Easter Seals loans durable medical equipment such as electric hospital beds, power, and manual wheelchairs, and adaptive bathroom devices to those in need. Equipment is provided at a nominal fee and can be used for an unlimited length of time. Easterseals seeks donations of used medical equipment for use in this program. Download the Equipment Loan Application or fill out the Word document. Please download or fill out the fillable equipment loan application. please email the completed form to us at atinfo@eastersealsia.org or you can fax the completed form to 515-289-1281.
Picking up durable medical equipment
Durable medical equipment can be picked up at our Assistive Technology Center by appointment only. Please call 515-309-2395 to arrange an appointment. We offer no contact equipment pick up.
The Easterseals Iowa Durable Medical Equipment Loan Program is not an emergency program. Every effort is made to respond to requested needs in a timely manner, including picking up equipment, matching equipment with borrower, and delivering equipment. These services will not be available for an overnight or emergency need.
The Easterseals Iowa Durable Medical Equipment Loan Program does not repair equipment nor does it repair or replace CCTV's should damage occur.
Accepting Durable Medical Equipment Donations: Easterseals Iowa accepts donated durable medical equipment at our Assistive Technology Center dock, by appointment only. Please call 515-309-2395 to arrange an appointment. We offer no contact equipment donation drop off. Please fill out this printable form
Address
Easterseals/Camp Sunnyside is located at 401 NE 66th Ave, Des Moines, Iowa 50313.
Directions
From Interstate 80/35, take the 2nd Ave exit, head north.
Once you arrive at Camp Sunnyside, follow the signs to the Assistive Technology Center.
For more information about the Equipment Loan Program, check out these helpful documents:
The Demonstration Center, located at Easterseals Iowa Camp Sunnyside, is open for demonstrations of various types of Assistive Technology devices to support individuals with disabilities and special needs by appointment only. The Demonstration Center is a valuable resource for Iowans to trial devices that may support recreation, access to daily living activities, computer and related devices, sensory and learning, and much more before the devices are brought to their homes.
The Lending Library inventory is available to use on our Easter Seals Iowa AT4All website. Equipment and resources are available for families, individuals, counselors, and schools. Up to 5 pieces of equipment can be checked out for 30 days to determine if it will work for them before deciding to purchase from vendors. These include small devices and gadgets to support daily activities. Complete this fillable Lending Library Microsoft Form to get started.
Turn right/east onto NE 66th Avenue
Easterseals will be approximately .2 miles down NE 66th Ave on your right.
Returning lending library items

Easterseals Iowa accepts returned lending library items at our Assistive Technology Center dock by appointment only. Please call 1-866-866-8782 to arrange an appointment. We offer no contact drop off. Items can also be returned by shipping them back to Easterseals Iowa at: 401 NE 66th Avenue, Des Moines, IA 50313
Picking up lending library items

Lending library items can be picked up at our Assistive Technology Center by appointment only. Please call 1-866-866-8782 or email us at atinfo@eastersealsia.org to arrange an appointment. We can also ship lending library items to your preferred location. We offer no contact equipment pick up.
The Iowa Assistive Technology Exchange Program is like a "classified ads" feature connecting Iowans with the Assistive Technology they need statewide. Iowans with Assistive Technology equipment that they no longer use are eligible to create an account and post these items for sale on this Exchange Program. Iowans in need of Assistive Technology may view the listings and contact the seller directly. This service can be found at https://eastersealsia.at4all.com/.
If you have any questions, please contact us at atinfo@eastersealsia.org (email), 1-866-866-8782 (Phone), 515-289-4069 (TTY).
Easterseals Iowa will be expanding our lending library, and increasing access to assistive technology gaming/alternative access devices for any individual who lives in Iowa and has a disability! Click to view this catalogue of items available, to apply for the program, use this downloadable application. For additional information, email us at atinfo@eastersealsia.org, call us at 1-866-866-8782 or TTY 515-289-4069.
---
Watch What Independence Means In The Kitchen
---
Assistive Technology at School
No two students learn exactly the same way. Assistive technology can help. If you have questions about including assistive technology in a student's IEP or would like help in requesting an assistive technology evaluation, please refer to the this resource. It is also available in the following languages: Arabic, Burmese, Hakha, Karen, Somali, Spanish, Swahili.
Creating Inclusion
Easterseals Iowa can help you guarantee that your documents, PowerPoints, other printed materials, websites, and physical location are as inclusive as possible to ensure you are providing the best customer service to persons of all abilities. There are easy steps that you can implement to provide equal access! These services are available to individuals, groups or businesses in the state of Iowa. Download the Creating Inclusion Document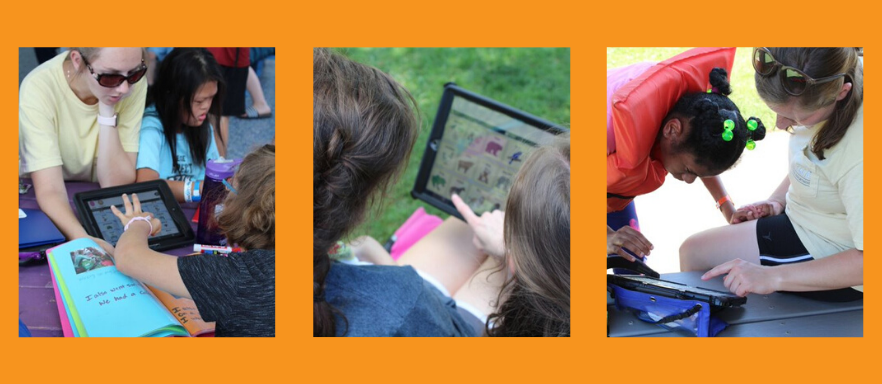 2021-2022 Assistive Technology Program Impact
We're changing the way the world defines and views disabilities by making profound, positive differences in people's lives every day with our programs.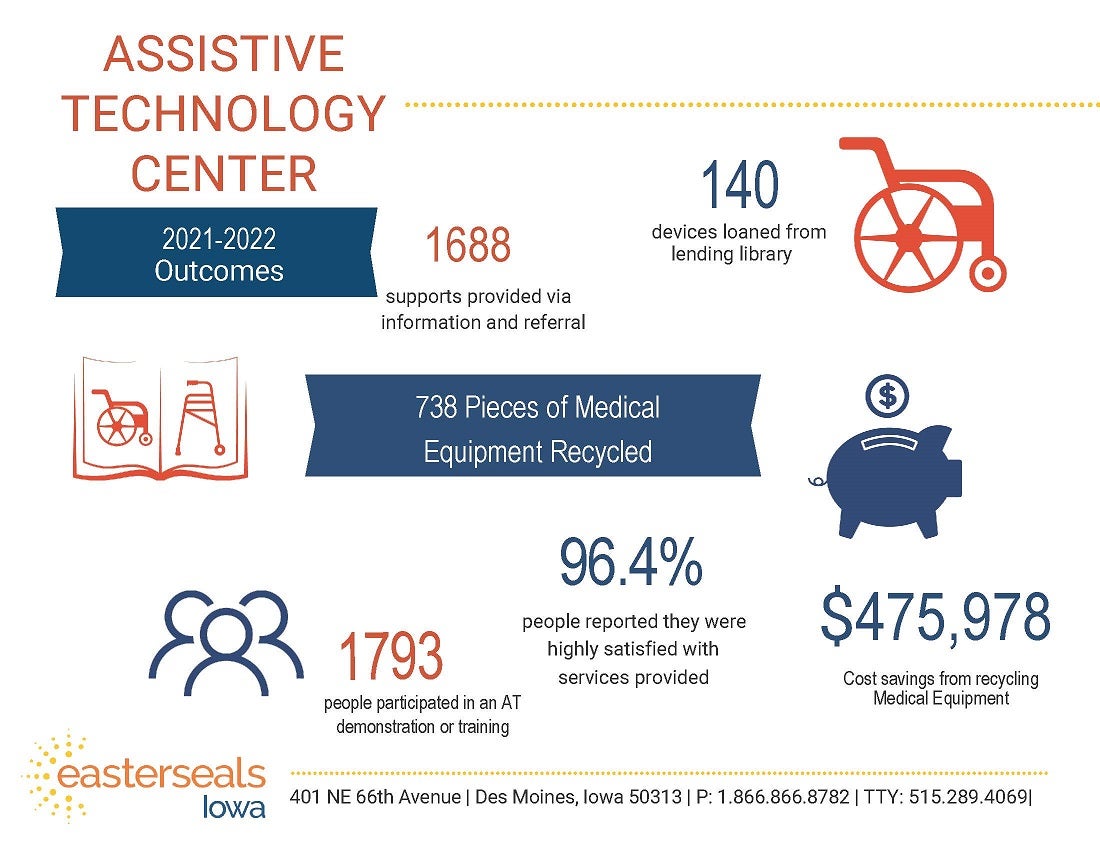 Contact Us
The Assistive Technology Center is located at Easter Seals Iowa Camp Sunnyside, 401 NE 66th Ave. in Des Moines, Iowa 50313. To make an appointment to pick-up or donate medical equipment, tour the Demonstration Center or visit the Lending Library, please call 1-866-866-8782 or 515-289-4069 (TTY) or email atinfo@eastersealsia.org.

---
The Easterseals Iowa Assistive Technology Program is made possible through funding from the Center for Disabilities and Development at the University of Iowa Health Care supported by the State AT Program grant from the U.S. Department of Health and Human Services Administration for Community Living. Its contents are solely the responsibility of the authors and do not necessarily represent the official views of the Administration for Community Living or HHS.