Inclusive Early Care and Education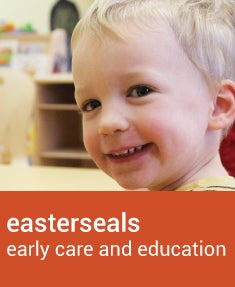 Easter Seals Early Care and Education Centers provide inclusive, high-quality services so that all children can grow and learn together. The mission of the Early Care and Education Program is to provide high-quality, early childhood education and early intervention for young children in an inclusive setting. Our goal is to provide stimulating educational experiences which promote each child's social, emotional, physical and cognitive growth and to help each child reach his or her full potential. Our program, centered around the Creative Curriculum, includes full-day childcare, parental support and intergenerational activities to ensure a successful transition into kindergarten. Easter Seals provides services for children with and without disabilities, six weeks to six years of age.
Children also benefit from individualized and small group occupational, physical, cognitive, and speech/language therapy services offered within the classroom. As a result of their daily interaction, typically developing children develop a more positive perception of children with special needs and are comfortable with and understand special needs. Children with special needs benefit from role modeling of their typically developing peers and are given an opportunity to meet all developmental needs in one program. The Early Care and Education Program provides these services to children from every walk of life, and we work exceptionally hard to serve children from low- to moderate-income families. For those unable to afford the difference between actual cost of services and payment from insurance, Easter Seals secures grants from private foundations and government agencies as well as generous support from individual and corporate sponsors.
Easter Seals operates four Early Care and Education Centers:

Washington, D.C.
The Harry and Jeanette Weinberg Child Development Center
(Click the link above to learn more)
2800 13th Street, NW
Washington, DC 20009
202.387.4434
Fax 202.462.7379
Northern Virginia
The Jo Ann & Carl McNair Community Child Development Center
(Click the link above to learn more)
300 Hunton Avenue
Falls Church, VA 22046
703.534.5353
703.534.5355 Fax

College Park, MD
The National Archives and Records Administration (NARA) Child Development Center
(Click the link above to learn more)
8601 Adelphi Road
College Park, MD 20740
301.837.3515
301.837.0874 Fax

Silver Spring, MD
The Safeway, Inc. Child Development Center in The Harry & Jeanette Weinberg Inter-Generational Center
(Click the link above to learn more)
1420 Spring Street
Silver Spring, MD 20910
301.588.8708
301.920.9770 Fax

For more information about our Early Care and Education Centers, please contact us or call 301.588.8708 or 800.886.3771.
For a printable format of our brochure, please click HERE.