Easterseals Adult Day Services – Baltimore
The Edward N. & Della L. Thome Adult and Senior Care Center
7138 Windsor Boulevard
Baltimore, MD 21244
(410) 277-0940
Baltimore@eseal.org

Hours of Operation: 7:00 am - 6:00 pm Monday-Friday | 10:00 am - 4:00 pm Saturday
Easterseals Adult Day Services in Baltimore has served the adult population with medical or physical disabilities for more than 20 years. A state-of-the-art facility, the Edward N. & Della L. Thome Adult and Senior Care Center on The Harry & Jeanette Weinberg Campus opened its doors in September 2014. It is the largest of our Adult Day Services centers, serving over 50 clients per day. The Baltimore location is also open on Saturday, in addition to Monday-Friday.
Our philosophy is to first understand the specific needs of our clients and their families. We then focus on effectively managing those needs through a customized approach to care planning that honors and respects the voice of the client, and promotes dignity, inclusion, community, and wellness.
Our Team
Each Medical Adult Day Center provides exceptional programming and meaningful experiences for adults and seniors in a caring, upbeat atmosphere. Our highly-trained staff sees their role not simply as a job, but as a personal commitment to each client and family we serve.
Our interdisciplinary team combines quality clinical oversight with unique therapeutic and recreational activities to produce an overall engaging experience that promotes the safety and well-being of each individual in our care.
Caregiver Support
It is critical for caregivers to know our Medical Adult Day centers are available to offer you respite from the ongoing and sometimes overwhelming duties of caregiving. Allow us to care for your loved one while you go to work, run errands, attend appointments, or simply take a break with the peace of mind knowing they are safe and happy.
Easterseals Medical Day Care Centers are a cost-effective solution to care. Our programs may be covered by Medicaid, The Department of Veterans Affairs, private pay, county subsidies or long-term care insurance.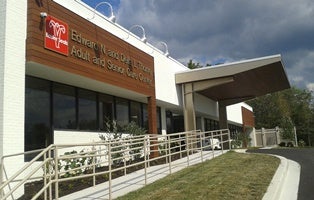 Edward N. and Della L. Thome Adult and Senior Care Center
Front view of the Adult and Senior Care Center. The center provides clinical services, engaging, daily activities, transportation and nutritious meals for program participants.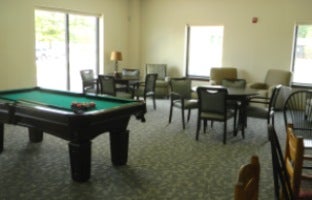 Club Room
This room includes entertainment and activities for our participants. We have WiFi enabled computer stations, a card table, pool table and lounge area to promote a variety of engaging and interactive activities.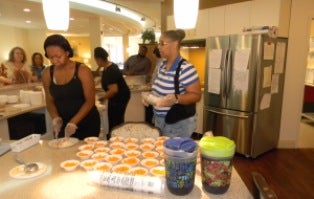 Participant Kitchen
This large and spacious kitchen offers participants the opportunity to cook with our staff. Participants help bake cookies and prepare snacks and then enjoying them in the comfort of this beautiful, gourmet kitchen and dining space.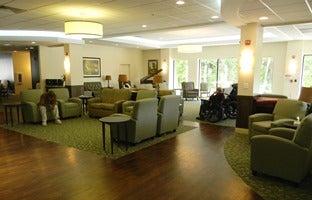 Grand Room
This room features a beautiful baby grand piano. Throughout this and other rooms in the center, our participants have wide, accessible aisles to help them move around without difficulty. All of our furniture is specially designed for comfort and ease of getting in and out of chairs. This space was also designed as a flexible environment, to easily rearrange furniture for different activities as needed. This room is equipped with a SNOEZELEN® multi-sensory environment (MSE), a specialized selection of sensory equipment and materials designed to enhance therapy, learning, and relaxation through a variety of sensory experiences.