The Edward N. and Della L. Thome Adult and Senior Care Center
Baltimore, MD
Address: 7138 Windsor Blvd., Baltimore, MD 21244
Phone: 410-277-0940
Email: Baltimore@eseal.org
Hours of Operation: 7:00am-6:00pm Monday-Friday | 10:00am-4:00pm Saturday
For more than 20 years, Easter Seals has been serving the aging population in Baltimore County. The state of the art Edward N. and Della L. Thome Adult and Senior Care Center on The Harry and Jeanette Weinberg Campus opened its doors in September 2014. Our programs may be covered by Medicaid, VA or private insurances.Our Philosophy:

At Easter Seals, we are deeply committed to the individuals we serve. Our philosophy is to first understand the specific needs of our clients and their families. We then focus on effectively managing those needs through a customized approach to care planning that honors and respects the boice of the client, and promotes dignity, inclusion, community and wellness.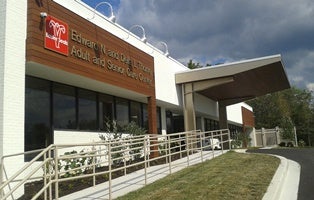 Edward N. and Della L. Thome Adult and Senior Care Center
Front view of the Adult and Senior Care Center. The center provides clinical services, engaging, daily activities, transportation and nutritious meals for program participants.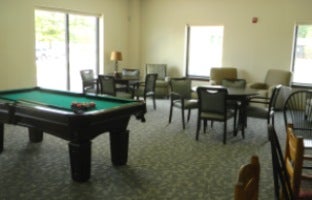 Club Room
This room includes entertainment and activities for our participants. We have WiFi enabled computer stations, a card table, pool table and lounge area to promote a variety of engaging and interactive activities.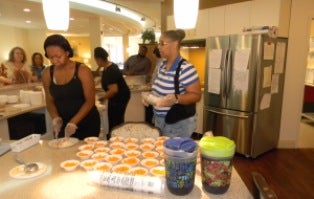 Participant Kitchen
This large and spacious kitchen offers participants the opportunity to cook with our staff. Participants help bake cookies and prepare snacks and then enjoying them in the comfort of this beautiful, gourmet kitchen and dining space.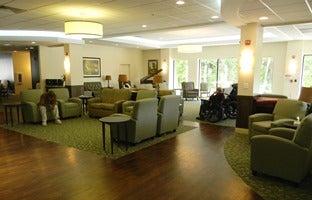 Grand Room
This room features a beautiful baby grand piano. Throughout this and other rooms in the center, our participants have wide, accessible aisles to help them move around without difficulty. All of our furniture is specially designed for comfort and ease of getting in and out of chairs. This space was also designed as a flexible environment, to easily rearrange furniture for different activities as needed. This room is equipped with a SNOEZELEN® multi-sensory environment (MSE), a specialized selection of sensory equipment and materials designed to enhance therapy, learning, and relaxation through a variety of sensory experiences.