Easterseals Adult Day Services – Silver Spring
The Morris & Gwendolyn Cafritz Adult Day Services
1420 Spring Street
Silver Spring, MD 20910
301-920-9765
ads@eseal.org
Hours of Operation: 7:00 am - 6:00 pm Monday-Friday
Easterseals Adult Day Services in Silver Spring has provided a fun, safe, and nurturing environment for adults and seniors of all ages and disabilities for nearly a decade. The Morris & Gwendolyn Cafritz Adult Day Services in the Harry and Jeanette Weinberg Inter-Generational Center is conveniently located right next to the District of Columbia. Clients can take advantage of day trips to museums, shows, and everything downtown DC has to offer.
Our philosophy is to first understand the specific needs of our clients and their families. We then focus on effectively managing those needs through a customized approach to care planning that honors and respects the voice of the client, and promotes dignity, inclusion, community, and wellness.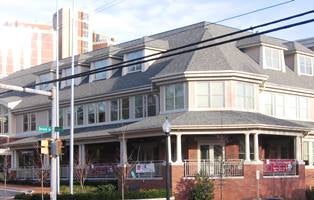 Morris & Gwendolyn Cafritz Adult Day Services Center
Front view of the Adult Day Service Center in downtown Silver Spring. Our skilled staff of registered nurses, social workers, certified nursing aides, physical and occupational therapists, and recreational directors are highly trained to address even the most complex medical issues and provide comprehensive and compassionate care for each individual in the program.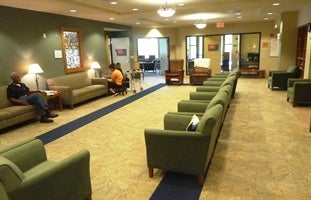 The Great Room
This room is designed for comfort and gives all of the participants a sense of home. With a fireplace, baby grand piano, book shelves and furniture specifically designed for comfort and ease, the great room is a great place. Special events also take place in the great room.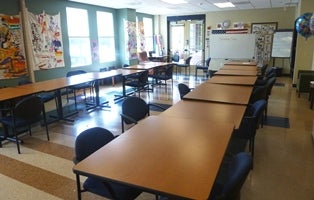 Participant Kitchen/Activity Room
The spacious, bright kitchen/activity room is ideal for participants and staff to enjoy breakfast, lunch and snack throughout the day. Weekly art therapy and other activities also take place in the activity room.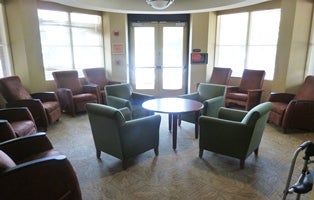 Relaxation Room
The relaxation room is exactly that -- a space for participants to relax and unwind from the stress and pressures of everyday life. The furniture in the relaxation room, designed for seniors and older adults, reclines for optimum relaxation. Participants also use this room for small, group activities like art projects, reading, and card games.