Redskins Champion Tony McGee Partners with Veteran Staffing Network to Host Veteran Job Fair and Live Show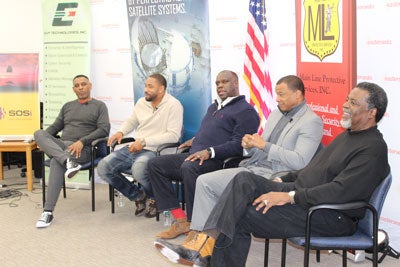 The Easterseals Veteran Staffing Network partnered with Washington Redskins Champion Tony McGee to host the "Pro Football Plus": Veteran Job Fair and Live Show in the Richard and Rae Swirnow Center for Excellence in Training in the Harry and Jeanette Weinberg Inter-Generational Center.
Veterans had the opportunity to pitch their unique skills, circulate their resumes, interview with employers, and meet former Redskins, including Dexter Manley, Gary Clark and Tony McGee.
We would like to thank Disabled Veterans National Foundation for generously donating suits and business clothes from JoS. A. Bank to help our veterans dress for success at their next job interviews!
Click HERE to learn more about the Easterseals Veteran Staffing Network.