Three-part series raises awareness of programs for service members, military families
FOR IMMEDIATE RELEASE
August 3, 2023
Silver Spring, MD — Returning home from military service can be a complex and bewildering journey for veterans and their families. Now, a new three-part series of podcasts from Soldier For Life, an official U.S. Army program, is spotlighting Easterseals DC MD VA services for soldiers, veterans, and military families, to help them manage their transition.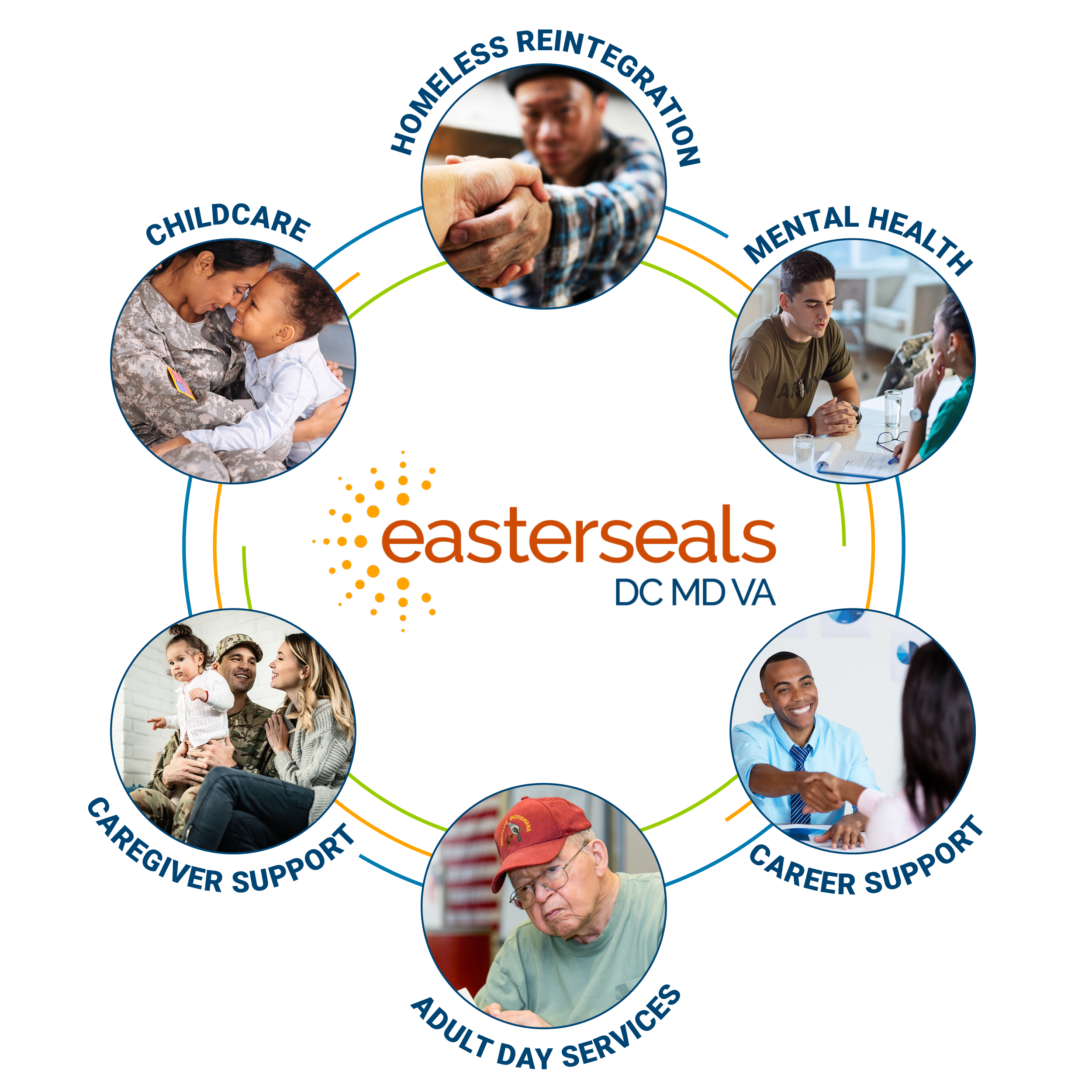 Colonel David Grant, Soldier For Life Director, noted the importance of community organizations like Easterseals DC MD VA, which provides mental health, employment, and other supports designed specifically for military families. "Despite the emphasis that the chain of command is putting on the health and wellness of military families, there's still a need for additional support for employment, mental health, and other family needs. Thankfully, there are nonprofits around the country that are providing that support."
Grant noted that military spouse unemployment — currently at a rate of 22% — is a particularly acute need.
President and CEO of Easterseals DC MD VA Jon Horowitch agreed: "Often, there are career gaps or frequent job changes" that hamper a military spouse's ability to find work. "One of my favorite stories is a military spouse whose husband was getting ready to retire and she had a tremendous amount of experience in the mental health field but was struggling to find the right job. We were able to help her reframe her experience so that she presented it from a skillset perspective," rather than a chronological listing, emphasizing the gaps. As a result, she found a rewarding leadership position with the help of the Easterseals Veteran Staffing Network.
The podcasts also unpack the interrelated nature of veterans' needs. "If you're experiencing unemployment or underemployment," said Horowitch, "it can lead to food insecurity or housing insecurity, and then those things can lead to mental health issues. Similarly, if someone has a mental health issue, that can make it hard to find and retain good employment. So we're very focused on meeting the holistic needs of the families we serve."
The Soldier for Life podcast can be found at https://soldierforlife.army.mil/Podcasts, with these Easterseals DC MD VA episodes:
Season 12, Episode 8: Services for the Military Community
Season 12, Episode 9: Mental Health
Season 13, Episode 2: Veteran Staffing Network
###
Easterseals DC MD VA – Easterseals leading the way to full equity, inclusion, and access through direct and life-changing disability and community services. Since 1945, Easterseals DC MD VA has worked tirelessly to enhance quality of life and expand access to healthcare, education, and employment opportunities. And we won't rest until each one of us is valued, respected, and accepted. For more information about Easterseals DC MD VA, visit www.eseal.org.
The U.S. Army Soldier For Life Podcast shares information about education, employment and health & wellness resources available to Soldiers, veterans, and their families. The podcast does not constitute an endorsement by the U.S. Army or the Department of Defense.
Contact: Paula Moore, Vice President of Communications & Marketing, pmoore@eseal.org.