Hello, good neighbor!
My name is Rachel Shuman. I live in Silver Spring and I'm the single mom of two bright, busy small sons, Auggie and Henry. Let me tell you how Easterseals helped us.
When Auggie was three and Henry was a baby, I learned that Auggie is on the autism spectrum. He was clearly not happy in his current daycare and toilet training had become an issue. I wasn't feeling good about leaving Henry there either. I needed a place where they both could thrive and a friend recommended Easterseals.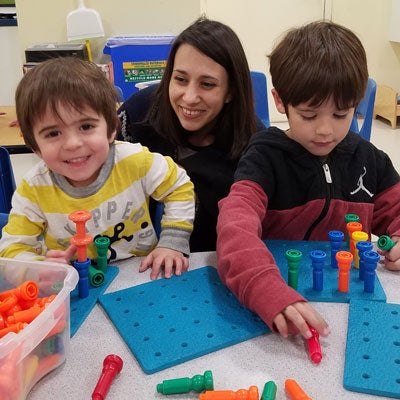 I visited Easterseals Inter-Generational Center and I loved it all - diverse groups, bright, sunny spaces, and an age-appropriate mix of caring and learning for my children. I learned about opportunities for the children to spend time with the adults and seniors in the building. Best of all, the staff is trained to meet special needs right in the classroom. Auggie stopped having accidents after just two days, and I've been watching both boys blossom ever since!
Easterseals deserves your support because it helps all kinds of folks here in the DMV. Will you invest in your community? Here is a day in my life.
The boys are already awake at 6:00am on this chilly December morning. A quick snuggle, warm clothes and breakfasts, a short drive, and I drop them off with their teachers by 7:15. Auggie runs to join his friends in the block corner while Ms. Yomi tells me about the day's big event: art with the grandmas and grandpas from the adult day center downstairs! I know how much Auggie loved that last time so I walk over to tell him.
Oops - I stayed too long, because Henry sees me in the hall and calls out. Ms. Edythe assures me he's going to be fine, so I blow him a kiss and head to the Metro. I trust her, as I trust all the staff here. I know if either of the boys has a problem I'll get a call. I look forward to the daily email I receive, with great pictures and updates, including Auggie's therapies.
It's already starting to get dark when I leave the office at 4:30. I'm tired, but my mood lifts the minute I walk into Easterseals. Henry has learned a song about states of matter, with big hand gestures, and Auggie already knows it, so all the way home we sing about water that can be solid when it's ice, make puffy clouds, or fall down like rain.
Easterseals encourages the best parts of both my sons. It's more than a job for the people who work there; it's a community of love and inclusion. I want that to be there for everyone who needs it, so I really, really hope you'll support Easterseals to help children like mine reach their potential.
In gratitude and hope,