Children and Adult Day Services Participants Join in Inter-Generational Day with Puppies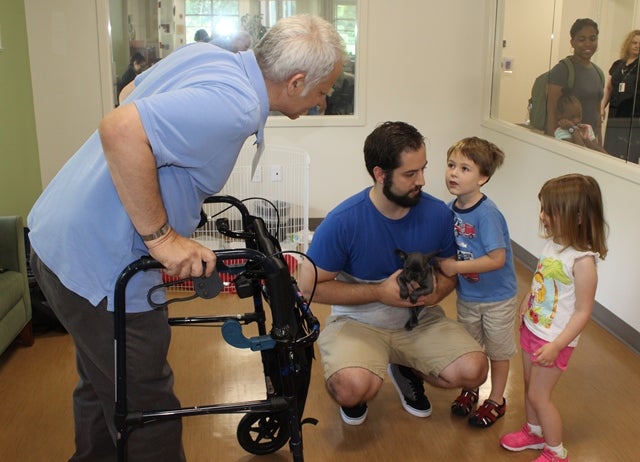 This month participants of all ages made furry friends at the Harry and Jeanette Weinberg Inter-Generational Center in Silver Spring, Maryland. A whole litter of puppies came to visit participants, bringing joy to the day and smiles to their faces. Children from the Safeway, Inc. Child Development Center joined participants from the Morris & Gwendolyn Cafritz Adult Day Services for a visit with the puppies and fun, inter-generational activities, organized to encourage sharing and caring.
The litter of puppies also visited the Adult Day Services in Hagerstown, Maryland, as well as the Edward N. and Della L. Thome Adult and Senior Care Center on the Harry and Jeanette Weinberg Campus in Baltimore, Maryland.
The Adult Day Services (ADS) program offers very personalized care in a stimulating and engaging environment that provides individuals with a meaningful experience every day. We are thrilled to have our little, furry friends play an active role in the enrichment and education in our ADS facilities.
For more information about the Adult Day Services program, please visit us HERE.