Picture Perfect Day at the National Portrait Gallery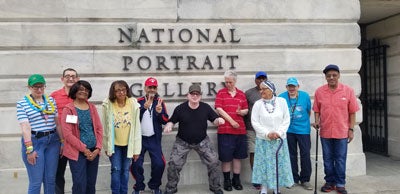 Participants from The Morris & Gwendolyn Cafritz Adult Day Services had a picture perfect day visiting the National Portrait Gallery on August 1, 2019. Check out more photos from their DC adventure HERE.
Our Adult Day Services Centers provide personalized care in a warm and engaging environment. We provide center-based and community activities including outings, guest speakers and celebrations. We care for individuals with developmental, intellectual and medical disabilities and special needs. Our person-centered care ensures that no matter what brought you into our center, we can meet your needs and help your family thrive.