Northrop Grumman Volunteers Visit Baltimore Adult and Senior Care Center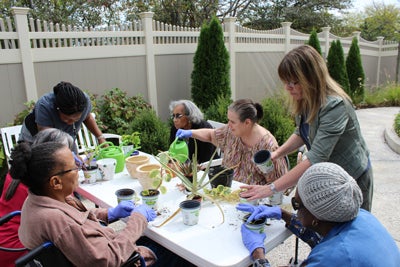 Recently, Northrop Grumman employees from the company's Lord Baltimore office took time out of their work day to pay a visit to our Edward N. and Della L. Thome Adult and Senior Care Center on The Harry and Jeanette Weinberg Campus in Baltimore. It was a fun filled day, as the volunteers interacted with the clients in a variety of activities, including gardening, billiards, card games and arts and crafts.
Volunteers not only help organizations like Easter Seals, but also benefit themselves and their companies, as well. Research shows that corporate volunteering programs give employees a greater sense of achievement at a personal and team level, a greater understanding of their local communities, increased teamwork and better working relationships with colleagues, and increased levels of engagement with their companies.
To find out how your company can get involved with volunteering with Easter Seals, please contact us at Info@eseal.org.