Easter Seals Serving DC|MD|VA Elects New Board Members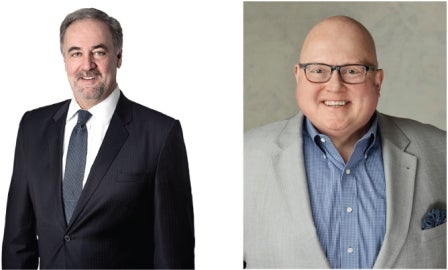 Easter Seals Serving DC|MD|VA is pleased to announce that Scott Meza, head of the Northern Virginia Corporate and Securities Group at the law firm of Greenberg Traurig, LLP, and Joe Sifer, Executive Vice President at Booz Allen Hamilton, have been elected to its Board of Directors.
"We are proud and pleased to welcome Scott Meza and Joe Sifer to our Board of Directors. Scott brings a wealth of knowledge and expertise with strategic planning, governance and financial management. Joe's history of activism for mental health awareness and emotional fitness in the corporate world and work with veteran's charities will make him an invaluable advocate for our veterans and military programs including our new Steven A. Cohen Military Family Clinic at Easterseals," said Jon Horowitch, President and CEO, Easter Seals Serving DC|MD|VA.
About Scott Meza
Scott Meza has more than 25 years of experience assisting businesses in complex transactions such as mergers, acquisitions, spin-offs of public and private companies, and sophisticated equity and debt financings and recapitalizations. His broad industry experience includes managing transactions for technology-based companies, as well as companies operating in highly regulated environments like government contracting, telecommunications and health care.
Meza is a Phi Betta Kappa graduate of Hobart College, and received his J.D. from The University of North Carolina.
Meza is a Board Member and General Counsel for the Virginia Biotechnology Association, President of The National Capital Chapter of the Association for Corporate Growth (ACG), Co-founding Member of the Association for Enterprise Growth, and member of the New Dominion Angels, Northern Virginia Technology Council, and the Tech Council of Maryland.
About Joe Sifer
Joe Sifer has more than 30 years of experience in engineering, technology, and consulting services that meet the mission and needs of the U.S. Government and select other clients. He has been with Booz Allen Hamilton since 1996, where he is now an Executive Vice President. Joe currently runs Booz Allen's defense/military intelligence business, having previously run its Army, engineering and science, and telecommunications technology businesses. He served recently as the inaugural visiting corporate fellow at the mental health advocacy non-profit, Give an Hour, as an "executive on loan" from Booz Allen.
Joe has an M.S. from the University of California, Berkeley and a B.S. with highest honors from the University of Notre Dame, both in electrical engineering. Joe also has an M.A. in Science, Technology, and Public Policy from George Washington University.
He is Chairman of the Board for the Armed Forces Communications and Electronics Association (AFCEA), Member of the Boards for the Strathmore Music and Arts Foundation and Project M.E.O.W, an animal advocacy group, and an active member of giving societies at the University of Notre Dame and of industry advisory councils for Notre Dame's College of Engineering and its electrical engineering and computer science departments.
For additional information about our Board of Directors, please visit us HERE.
Pictured Above (left to right): Scott Meza, Head of Northern Virginia Corporate Securities Group, Greenberg Traurig and Joe Sifer, Executive Vice President, Booz Allen Hamilton.