Holiday Cheer at Easterseals Respite Program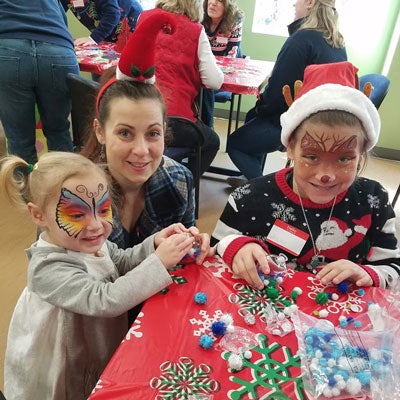 The Easterseals Respite Program brought holiday cheer to our "Little Warriors" and military families. On Saturday, December 7th, we hosted our first Holiday event of the season in The Lisa A. Reeves Community Room in The Harry and Jeanette Weinberg Inter-Generational Center. Festivities included a visit from Santa, face painting, arts and crafts, holiday-themed games, and a photo booth! We would like to thank the amazing volunteers from University of Dayton Alumni Association of DC/Baltimore Community for helping us make profound, positive differences in the lives of "Little Warriors" and military families.
Our second Holiday event took place on Saturday, December 14th at American Legion Post 85 & 130​. Festivities included arts and crafts, cupcake decorating, and lunch with a police officer. To top things off, Santa arrived on a fire truck with gifts for all of the children. This event wouldn't have been possible without the love and support of our incredible volunteers and sponsors! Special thanks to the amazing Sherry Lemnah, John Tribble, Grover Gaming, Matt & Pam Caruthers, Arlington County Fire Department Station 6, City of Falls Church Police Department, and American Legion Post 177.
These events embodied the mission of inclusion at Easterseals, celebrating all families and allowing children with disabilities or special needs, typically developing children, and children of wounded warriors the opportunity to grow, play and learn together. For more information about our Respite Services, please click HERE.