Good Shepherd Ministries Annual Christmas Banquet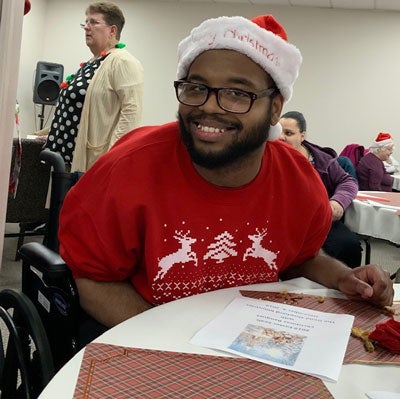 For many of the adults we care for at Easterseals Adult Day Services in Hagerstown, the Annual Holiday Banquet hosted by Good Shepherd Ministries is the highlight of their year. Members of the congregation "adopted" participants and put together special gift bags for each individual with their favorite things. Participants enjoyed a delicious holiday meal and had their pictures taken with Santa.
Our Assistant Director, Deborah Lauricella, says the goal of the event is to make participants feel like part of the Easterseals family and let them know that someone cares. "It's the most exciting day of the year for the clients. They look forward to this all year long. They get gifts, and they have a wonderful homemade dinner. Some of them do not have a family, so this is very important to them."
Our Adult Day Services provide personalized care in a warm and engaging environment. We care for individuals with developmental, intellectual and medical disabilities and special needs. Our person-centered care ensures that no matter what brought you into our center, we can meet your needs and help your family thrive. Click HERE to learn more about Easterseals Adult Day Services.