Easterseals DC MD VA Honors Amazon Web Services, General John Raymond and Mrs. Mollie Raymond, and Dr. Marta Wilson at 2022 Advocacy Awards
Annual Dinner Celebrates Leaders Advancing Opportunities for Children and Adults with Disabilities, Including Military Families
FOR IMMEDIATE RELEASE
April 26, 2022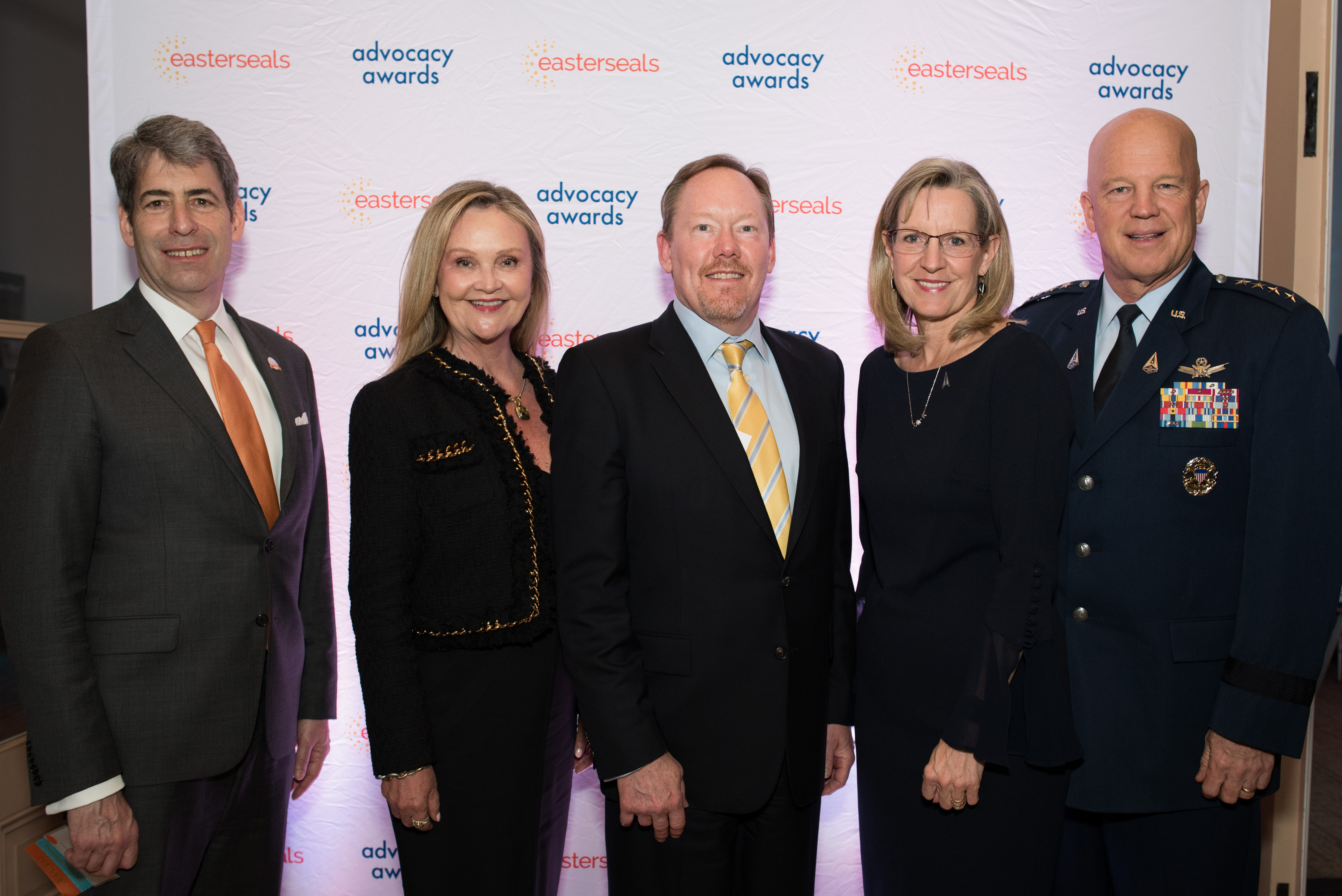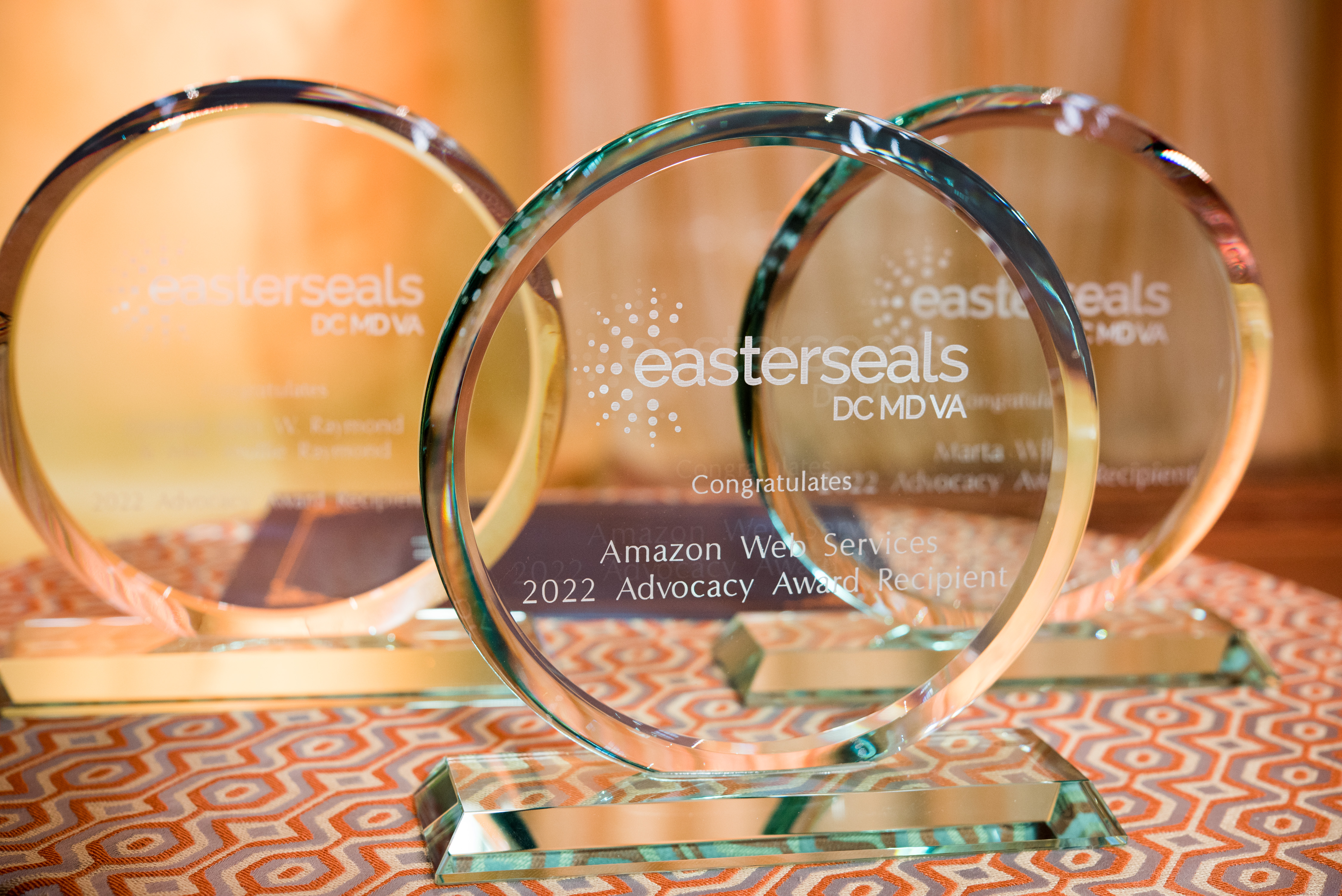 Pictured left to right: Jonathan Horowitch, President & CEO of Easterseals DC MD VA, with 2022 Advocacy Award Honorees Dr. Marta Wilson, Max Peterson for Amazon Web Services, Mrs. Mollie Raymond, General John Raymond.
Silver Spring, MD — Easterseals DC MD VA Advocacy Awards Dinner on April 12, 2022, at the National Building Museum honored advocates who have demonstrated an exemplary commitment to advancing opportunities for children and adults with disabilities, including military families. This year's Advocacy Award honorees were Amazon Web Services, General John Raymond and Mrs. Mollie Raymond, and Dr. Marta Wilson. Leaders in business, government relations, and professional services, as well as military and government dignitaries, gathered in support of Easterseals DC MD VA to raise $550,000.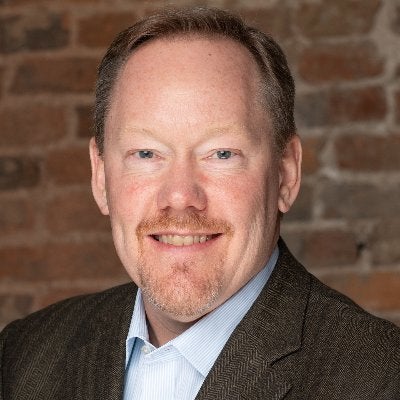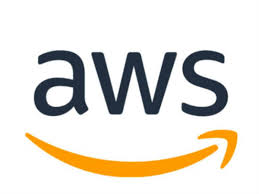 Amazon Web Services (AWS) was recognized for its collaboration with Easterseals in pioneering innovative solutions to nonprofit data management. Funded by the 2021 AWS Imagine Grant, Easterseals DC MD VA launched a new outcomes measurement project to further achieve even better results for clients and the community.
"We love the fact that Easterseals shares a lot of the same values that AWS embodies," said Max Peterson, Vice President, Worldwide Public Sector of Amazon Web Services, who accepted the award. "We love the way that the team is learning and being curious and exploring new opportunities, a very important Amazon principal. We love the ways that you work backward from your customer's missions… The whole Easterseals organization has a very high bar for standards. That's something that AWS and Amazon are very proud about."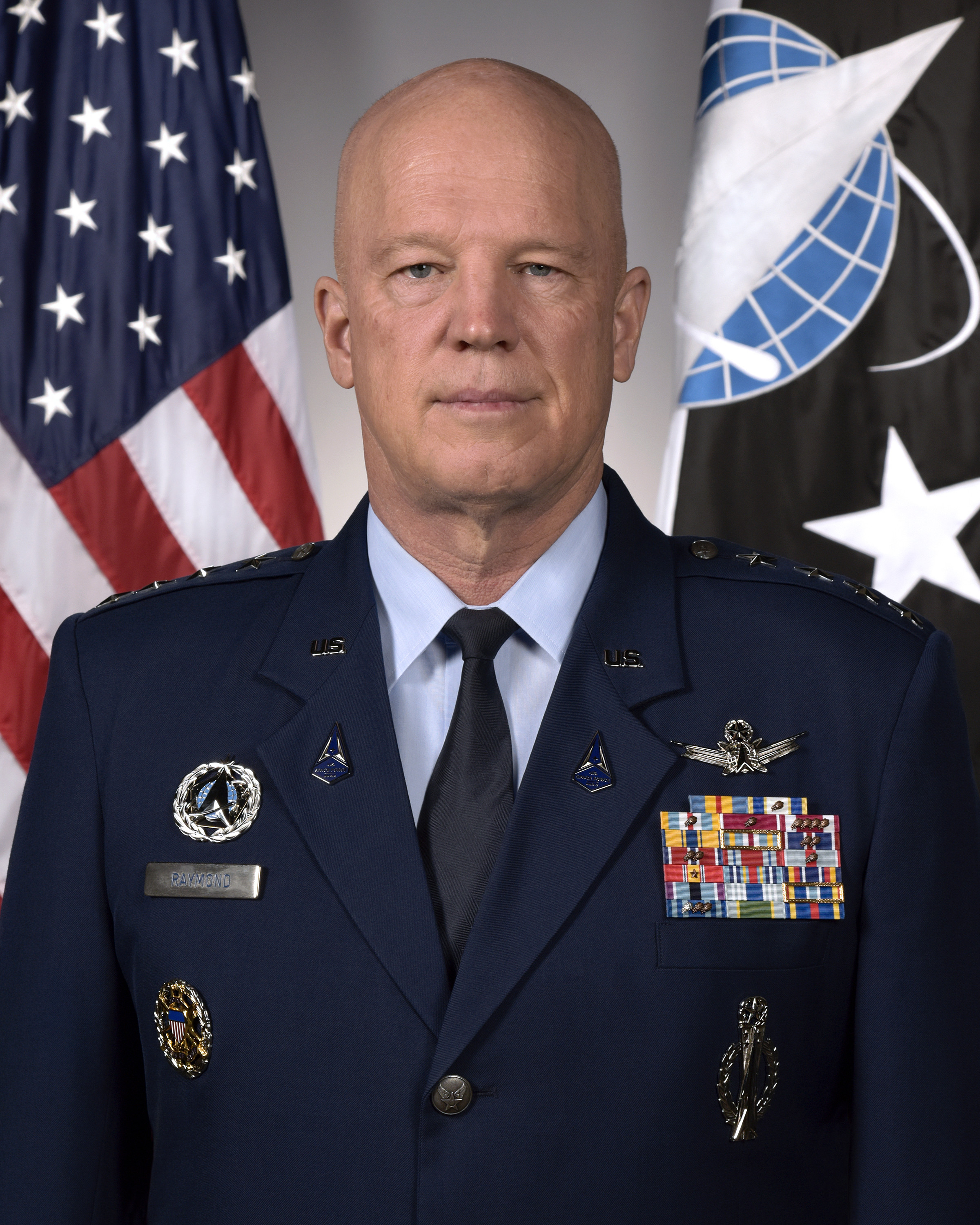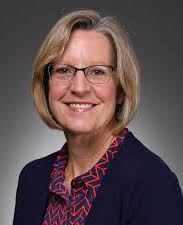 General John Raymond, Chief of Space Operations at U.S. Space Force, and Mrs. Mollie Raymond, Military Family Advocate, were commended for their advocacy work in mental healthcare for service members and employment of military spouses. General Raymond spoke about the resilience of military families and the value of military support services like the Steven A. Cohen Military Family Clinic at Easterseals. Mrs. Mollie Raymond spoke about the extra challenges of military life and the benefit of Easterseals "Candid Conversations" webinars for military families.
"We spend years or decades away from family and friends and support systems… The stresses of deployments and long hours of work [and] the grave nature of our business can also be very, very taxing. Organizations like Easterseals are invaluable in addressing potential gaps," said General Raymond.
Mrs. Raymond added that the resources and support of organizations like Easterseals "make all the difference in choosing to stay in this life … My heartfelt gratitude to everyone at Easterseals on behalf of all military families."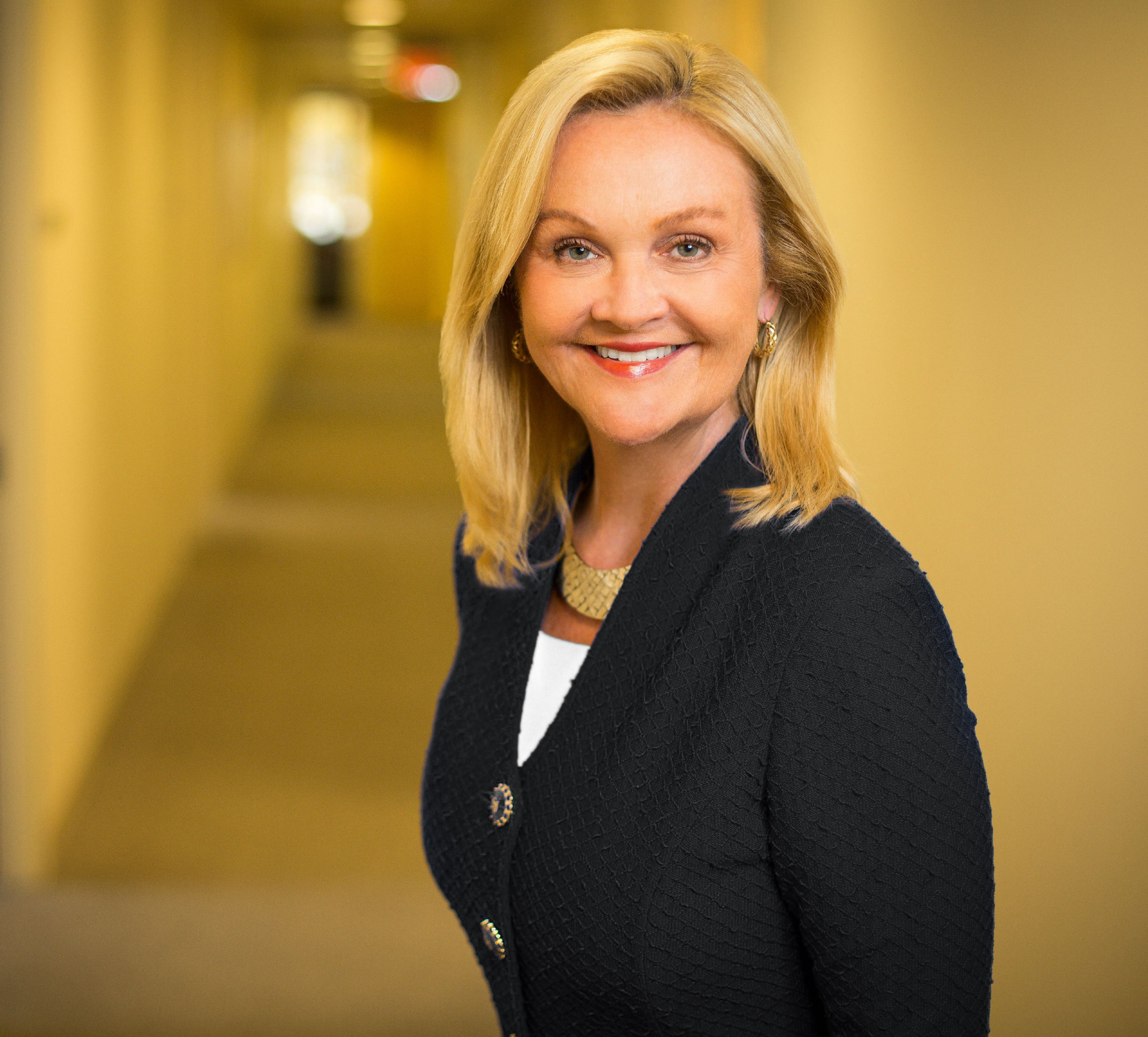 Dr. Marta Wilson, Founder & CEO of Transformation Systems, Inc., was honored for her contributions as a donor, advocate, and former Board Chair at Easterseals DC MD VA. Dr. Wilson enhanced the Easterseals Board's effectiveness by growing its capabilities and leading annual strategy retreats. She and her late husband Bob's passion for Easterseals is memorialized in the name dedication of Easterseals' Robert S. Wilson Jr. Community Respite Program, a signature program of the Robert Irvine Foundation. Dr. Wilson thanked the Board, staff, donors, volunteers, and community members for their shared commitment to children, military families, seniors, and caregivers.
"What I cherish most about Easterseals is that it provides services that ensure all people, ALL PEOPLE, have opportunities to live life to the fullest. Being involved with the Advocacy Awards for the past 10 years, it motivates and inspires me to find new ways to support and nurture those who need a helping hand."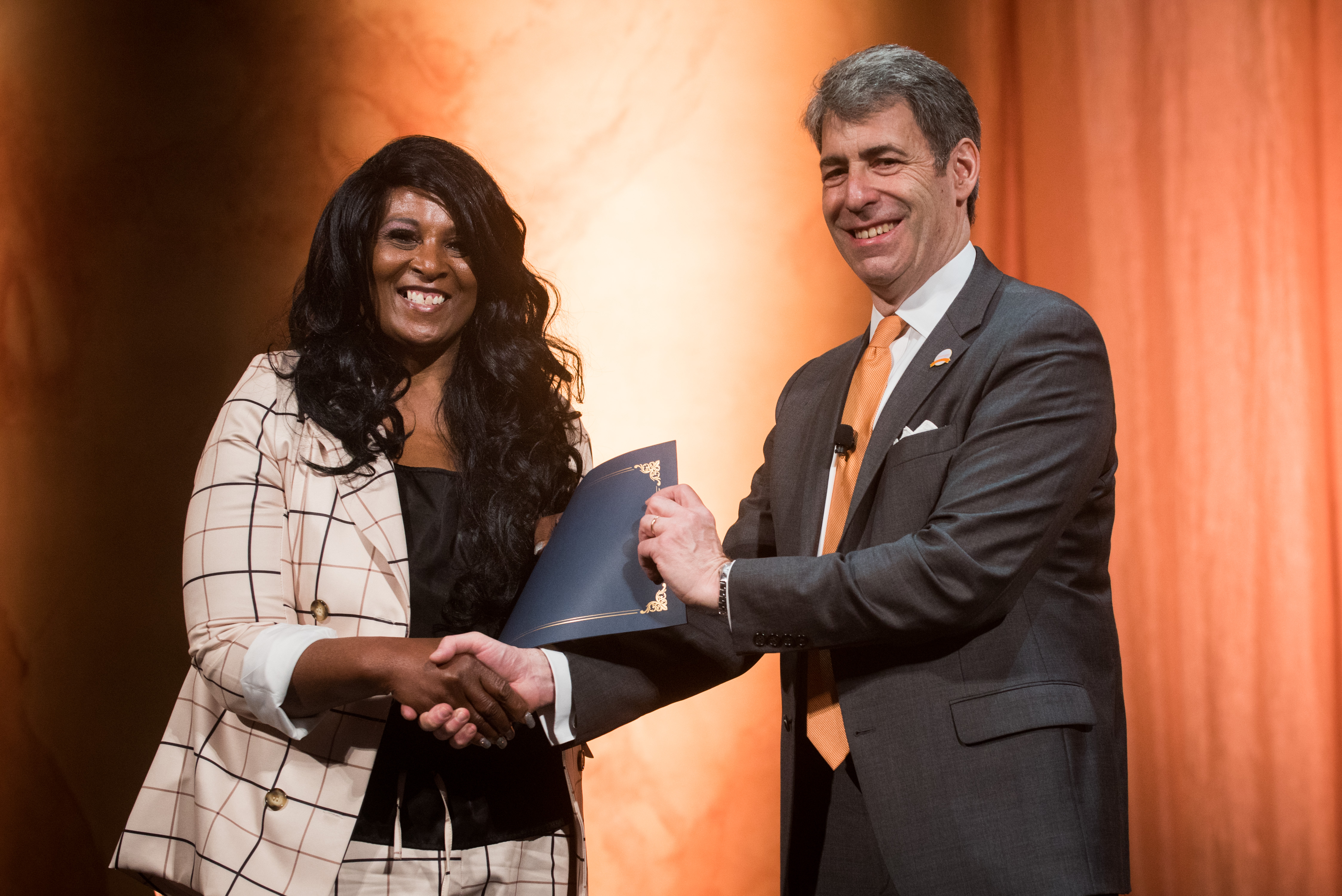 Easterseals also presented its annual Leadership Award, which recognizes non-management staff for exceptional leadership. This year's award went to Donna Chase, an Assistant Teacher with Easterseals' Head Start program. Donna has been a teacher for over 30 years and was commended for her mentoring of new teachers, as well as her commitment to ensuring all children are successful in their learning journey to kindergarten and beyond.
Advocacy Awards co-hosts Monte Durham, TV personality and military family advocate, and Kim Clark Pakstys, co-chair of the event, kicked off the evening, along with a video message from celebrity Chef Robert Irvine, and remarks from Scott Meza, Chairman of the Easterseals DC MD VA Board of Directors, and Jon Horowitch, President & CEO of Easterseals DC MD VA.
Participants joined in-person and by live-stream to hear personal stories and client testimonials about the impact of Easterseals. Videos of Marsi and her son Langston, who receives early childhood intervention services, and siblings William and Linda, who participate in Easterseals Adult Day Services program, are available on Easterseals YouTube channel. Mallary Lass, Outreach Manager at the Steven A. Cohen Military Family Clinic at Easterseals, read a testimonial from a former client:
"I would like to share my gratitude to the Cohen Clinic. I was not sure of how it would all work out. I am very glad that I made the call when I did, because if I would not have found you, my next alternative was suicide for sure. But the Clinic has given me the place to heal and the tools to fight back the demons in my own head."
Other honorable presenters and speakers included:
Liz Martin, Advocacy Awards Co-Chair and Director of Amazon Web Services, whose passion helps veterans and military spouses thrive in civilian careers at Amazon;
General David and Mrs. Dawn Goldfein, Honorary Advocacy Awards Co-Chairs, whose advocacy work ensures military families and veterans are part of the broader community through meaningful education, healthcare, and employment;
Jared Isaacman, CEO of Shift4 and Mission Commander for Polaris Dawn Inspiration 4, and his wife Monica Isaacman, whose charitable mission fundraises for children with disabilities and severe medical conditions;
Bonnie Carroll, Founder and CEO of TAPS, whose organization provides compassionate care to all those grieving the death of a military loved one;
Bobbie Kilberg, Honorary Board Member at Easterseals DC MD VA and CEO Emeritus of the Northern Virginia Technology Council, whose personal connections to children with disabilities fuels her to raise awareness;
Linda Gilday, Ambassador at Easterseals DC MD VA and Spouse of Admiral Michael Gilday, whose endorsement continues Easterseals 100-year tradition of service, access, and innovation.
The evening would not have been possible without generous sponsors and the 2022 Executive Committee, Host Committee, and Ambassador Committee.
###
Easterseals DC MD VA – Easterseals is leading the way to full equity, inclusion, and access through direct and life-changing disability and community services. Since 1945, Easterseals DC MD VA has worked tirelessly to enhance quality of life and expand access to healthcare,
education, and employment. And we won't rest until each one of us is valued, respected, and accepted. Join us: www.eseal.org.