Easterseals Celebrates Our Life-Changing Accomplishments in 2018


Easterseals hosted a community reception in our newly renovated Harry and Jeanette Weinberg Inter-Generational Center in Silver Spring to celebrate our life-changing accomplishments in 2018, and the profound, positive differences we are making in the daily lives of people of all ages with disabilities, special needs, military backgrounds and their families.
We celebrated the success of the All Thrive Campaign, which made renovations of the Center possible and enabled us to serve the community better by expanding the Safeway, Inc. Child Development Center; The Morris & Gwendolyn Cafritz Adult Day Services Center and the Veteran Staffing Network. A new, open space also allowed us to launch Easterseals Disability Staffing Network and Steven A. Cohen Military Family Clinic at Easterseals (Cohen Clinic).
Lastly, we were thrilled to celebrate the Cohen Clinic's First Anniversary, which has provided high-quality, accessible, and integrated behavioral health care to over 400 veterans and family members, and the families of active duty service members throughout D.C., Maryland and Virginia.
We would like to thank Lamar Winslow, a former Cohen Clinic client, for joining us to share his story. Lamar is a former Marine Corps captain and a practicing civil rights attorney who served three tours of duty in Iraq in 2003, 2006, and 2007. Click HERE to watch Lamar's remarks.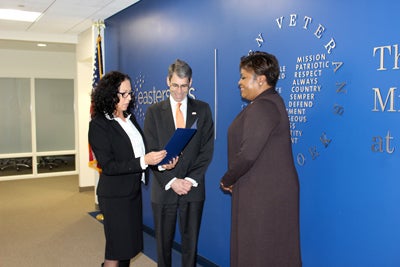 Vikki Garcia, Community Outreach Specialist for Congressman John Sarbanes, presented Jon Horowitch, President and CEO of Easterseals DC MD VA, and Dr. Tracy Neal-Walden, Director of the Cohen Clinic, with an official proclamation in honor of the First Anniversary of the Steven A. Cohen Military Family Clinic at Easterseals.
The evening concluded with the dedication of the Lisa A. Reeves Community Room in The Morris & Gwendolyn Cafritz Adult Day Services, in honor of our former President and CEO, who dedicated 35 years of her career to the mission of Easterseals.