Easterseals Dedicates Dalia Meza Room in Falls Church Child Development Center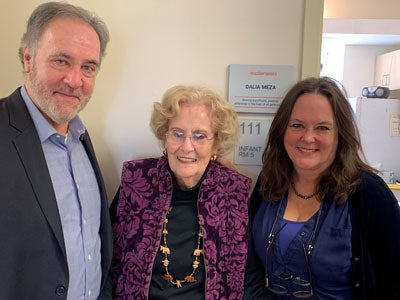 On February 15, 2019, Easterseals officially dedicated the Dalia Meza room at the Jo Ann & Carl McNair Community Child Development Center in Falls Church, VA. Easterseals DC MD VA Board Member Scott Meza and his wife Anny made a special gift in honor of his mother Dalia who was a bilingual educator for DC Public Schools. We would like to thank the Meza family for helping us make profound, positive differences in the lives of children with disabilities and special needs!
Our Child Development Centers provide early care and educational programming for children six weeks old through Pre-Kindergarten. Our inclusive educational setting creates an environment where children of all abilities have the same opportunities for learning new skills, developing relationships, enjoying a shared sense of belonging and establishing an appreciation for diversity in others. Click HERE to learn more about Easterseals Early Care and Education.