Councilmember Craig Rice Visits The Harry and Jeanette Weinberg Inter-Generational Center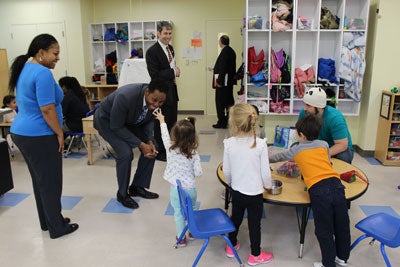 It was a pleasure to host Montgomery County Councilmember Craig Rice for a tour of The Harry and Jeanette Weinberg Inter-Generational Center. We are so grateful for the opportunity to discuss the breadth and depth of our programs for people of all ages with disabilities, special needs, military backgrounds, and their families, including the Steven A. Cohen Military Family Clinic at Easterseals, Easterseals Veteran Staffing Network, and Easterseals Disability Staffing Network (EDSN).
During the tour, Councilmember Rice was thrilled to see that Easterseals' Child Development Centers are focused on creating inclusive early education learning environments, and that all our programs are designed to help children and adults of all abilities reach their potential and achieve their personal goals.
Easterseals is thankful for the visit by Councilmember Craig Rice, and we look forward to continuing our partnership with the Montgomery County Council in providing vital services to the community. For additional information about our programs and services, please visit us HERE.