Comcast Assistive Technology Helps Participants in Adult Day Services Thrive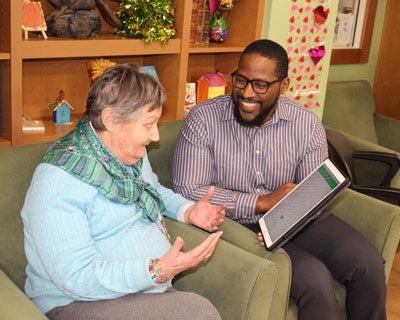 Easterseals DC MD VA is the recipient of the Comcast NBCUniversal Assistive Technology Grant, which is designed to enhance successful programs for people with disabilities by providing assessment, training and support to address their long-term technology needs.
Assistive technology is enhancing communication between participants and caregivers at our Adult Day Services centers. The iPad is used to administer surveys – by filling out a simple survey form, participants can identify and report the activities they have chosen for the day and whether or not they enjoyed them. The ability to provide feedback helps our center director plan more engaging activities and ensures our participants feel heard.
Our iPads allow participants to share videos and music, and even help center staff translate for non-English speakers in real time. Spanish and Vietnamese speaking participants have displayed higher levels of interaction with English-speaking staff and peers as a result of using this translation application throughout their day-to-day activities.
Thanks to Comcast NBCUniversal for helping participants like Ms. Penny thrive!