Grand Opening of the Steven A. Cohen Military Family Clinic at Easterseals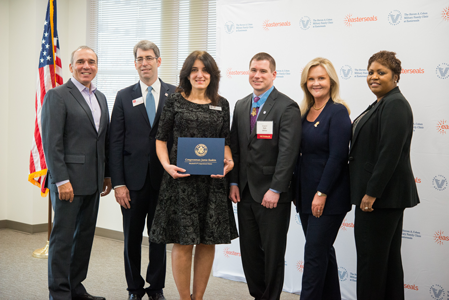 The Steven A. Cohen Military Family Clinic at Easterseals held its official grand opening ceremonies on November 2nd. The events marked a special day for everyone at Easterseals and the Cohen Veterans Network (CVN).
The Steven A. Cohen Military Family Clinic at Easterseals is one of five new locations opening in 2017 as part of the CVN's chain of behavioral health clinics. They provide low to no-cost, high-quality services and case management resource referrals for veterans, their families, and the families of active duty, National Guard, and Reserve servicemembers.
The Cohen Clinic is the latest addition to the array of services Easterseals offers veterans, active duty, National Guard and Reservists and their families of our region through our Military & Veterans Services.
The event was a chance to introduce the assorted dignitaries from the military, federal, state and local governments, and representatives of community and veteran service organizations to Easterseals and our programs for veteran and military families. We were able to showcase this wonderful new facility and show how it fits into Easterseals' holistic approach to meeting community needs.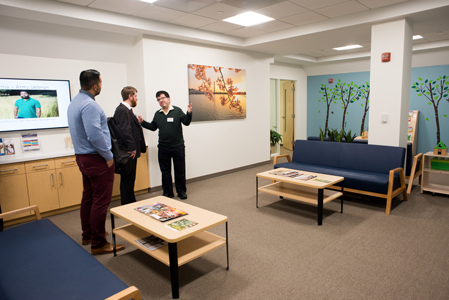 "Today's event allows us to introduce this wonderful new resource for the veteran and military family community to the leaders of our region, and to the various local organizations we'll be working with for referrals and community outreach," said Cohen Clinic Director Dr. Tracy Neal-Walden. "We're excited to showcase this warm and welcoming facility, and educate the area's leadership and network of public and private social service organizations about this latest addition to the ecosystem of services Easterseals has created for military families."
The CVN's founder and namesake, Steven A. Cohen, became involved in veteran's mental healthcare after his son returned from a tour in Afghanistan with the U.S. Marine Corps. In 2016, Mr. Cohen launched the Network with a pledge of $275 million to support the creation of 25 clinics across the nation.
To read more about the event, see Tracy's guest post on the "Notes from the President" blog. You can also see a video of military family advocate and 2017 Advocacy Award winner Ellyn Dunford's remarks at the opening ceremonies here.