I work in the nonprofit sector as a philanthropy advisor, helping wealthy people direct their donations to organizations that provide services. Five years ago, I never imagined I'd be receiving services from a community organization like Easterseals—and I want to tell you how glad and grateful I am!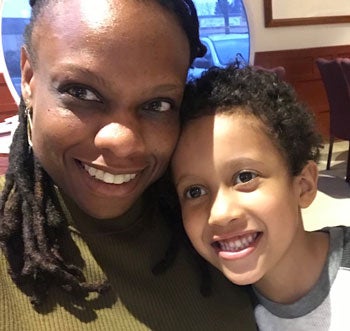 The story began soon after my beautiful son Beck was born, in February of 2015. When I noticed he wasn't hitting milestones, like babbling, I had him evaluated. He had some speech therapy sessions and they went well, so I felt a bit less lost. After a second evaluation, which noted his language was limited but did not recommend services, I enrolled him in a therapy group the city provided at the local library and in private, weekly play-based speech therapy.
One of the therapists suggested we see a psychologist. That evaluation, when he was almost two and a half, was extremely thorough, and it confirmed the diagnosis of autism. Though it wasn't a surprise, I was crushed because I knew life can be more difficult for kids with special needs.
The psychologist said it was important for him to be in a group with typical kids his age. After much searching, I found Easterseals. The staff was warm and understanding, and so relaxed that I felt better about our options right away. The transition was a big one, though, and it was tough for Beck. For the first few weeks that fall he would scream when I left, and it tore my heart out.
One day I must have been looking especially unhappy as I left for work, because the woman at the front desk asked if I was OK. I broke down sobbing. She took me into a quiet reception area, bought me tissues and cool water, and let me sit there until I was more composed.
That kind of caring is what Beck and I both experience from everybody at Easterseals. I could leave him and know he was fine, even on the days when it was really hard, because I got constant feedback from the speech and developmental therapists, the teachers, and center director. By wintertime Beck was enthusiastic about going to school. My family and others who know him could see the difference week by week.
In June he will graduate from pre-K and in September he'll start kindergarten in our DC public school. He's excited about this transition, and I am too. He's clearly ready to move up. He talks nonstop, he asks questions, and he plays pretend, like other five-year-olds. Today when we go to the playground or the library he'll walk up to other kids and invite them to play. It feels like a miracle!
None of this just happened, though. I mentioned how kind and caring everone is at Easterseals. They also have beautifully inclusive programs. There's no pulling kids out for therapy. It happens right in the classroom. The program is integrated in every way—racially, socio-economically, and by abilities—the way our lives should be.
I'm not poor, but I'm not wealthy either. I could never have put together the programming Beck needs without Easterseals. I know I am very fortunate, so today I am a vocal advocate for early intervention AND for Easterseals. If every child could experience this kind of care, I know we'd have a better world.