FOR IMMEDIATE RELEASE
February 9, 2023
Silver Spring, MD — Easterseals DC MD VA has received a $91,658 capital project grant and a $21,000 public service grant from Baltimore County to promote sustainable living conditions for low-income adults with disabilities enrolled in Easterseals Medical Adult Day Services. With these financial awards, the Easterseals center in Baltimore, Maryland will install a new air filtration system and maintain critical staff.
The new air filtration system will help maintain the health of Easterseals participants with cardiovascular issues, allergies, and breathing disorders. Easterseals Adult Day Services cares for a highly vulnerable population of adults and seniors with disabilities, many with co-morbidities. According to a 2021 study, exposure to indoor air pollution increases respiratory and cardiovascular morbidity and mortality, especially in older adults. With clean, purified air throughout the building, all participants will benefit from reduced airborne contaminants – including viruses such as COVID-19 – and particulates like dust, pollen, and dander.
The public service grant will support the essential activity director staff position at the center. The activity director ensures clients – many of whom have Alzheimer's disease – and their caregivers have a positive, meaningful experience at Easterseals. The activity director oversees participants' unique medical, social, and family needs so they can fully engage in activities that combat loneliness and social isolation.
The grants contribute to the ongoing affordability of Easterseals Adult Day Services. The new funding ensures 178 Baltimore participants with disabilities from 150 extremely low- to moderate-income households receive quality care. Caregivers can feel confident enrolling their loved one at Easterseals without financial burden.
A 2022 client survey indicates that both participants and caregivers experience an improved quality of life at an Easterseals Adult Day Service Center.
93% of participants feel an improved quality of life since attending an Easterseals Adult Day Service Center
93% of caregivers feel less stressed since enrolling a loved one at an Easterseals Adult Day Service Center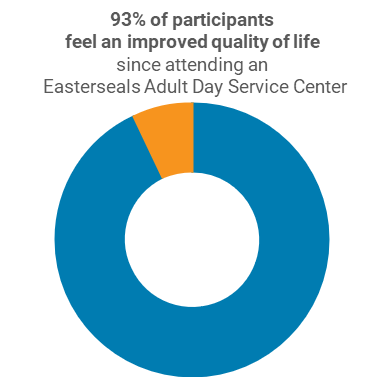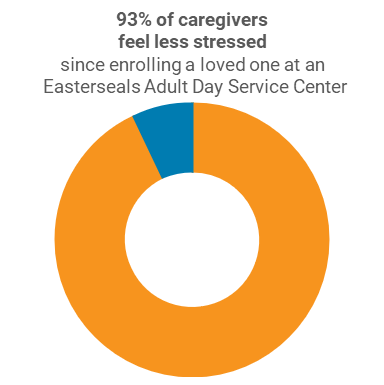 Both grants stem from Baltimore County's Community Development Block Grant (CDBG). Baltimore County, through the Department of Housing and Community Development (DHCD) and the U.S. Department of Housing and Urban Development (HUD), allocates CDBG funds to meet the national objective of benefiting low- and moderate-income persons.


###


Easterseals DC MD VA – Easterseals is leading the way to full equity, inclusion, and access through direct and life-changing disability and community services. Since 1945, Easterseals DC MD VA has worked tirelessly to enhance quality of life and expand access to healthcare, education, and employment opportunities. And we won't rest until each one of us is valued, respected, and accepted. Join us: www.eseal.org.
Contact: Lauren Poon, Manager of Communications & Marketing, lpoon@eseal.org