Sharing the Love at Eastersals Adult Day Services in Silver Spring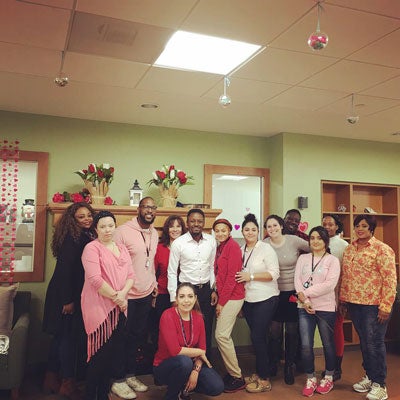 February 14th is a very special day to share our love and appreciation for the participants and staff at The Morris & Gwendolyn Cafritz Adult Day Services in the Harry and Jeanette Weinberg Inter-Generational Center! This year, we celebrated by having a Valentine's Day Party! Participants and staff listened to their favorite love ballads and decorated cupcakes for all to share. Our staff wore the traditional colors (red) or (pink) for the day and red won for the most popular color of the day. BUT Pink was a close second!
Our Adult Day Services Centers provide personalized care in a warm and engaging environment. We care for adults aged 16 and older with developmental, intellectual and medical disabilities and complex special needs. We provide center-based and community activities including gardening, guest speakers, special celebrations and outings. For additional information about our Adult Day Services, please visit us HERE.