Sophia Addo
An Incredible Journey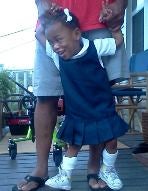 Going into labor at only 24 weeks was not something Ellen Addo had expected. When her daughter, Sophia, a surviving twin, was born, she remained in the neonatal intensive care unit for over three months before she went home, only to be readmitted to the hospital just a few days later with meningitis.
When Sophia was in the hospital at Children's National Health System in Washington, DC, Ellen met with specialists at the Child Development Program who suggested she look into Easterseals. Ellen visited the Harry and Jeanette Weinberg Child Development Center in Washington, DC, and knew right away it would be a perfect fit for Sophia. "Sophia is so specialized, I felt there wasn't much anyone could do to teach her," said Ellen. "But there was something special about Easter Seals, and the staff helped me to give Sophia the love and support she needed."
Sophia began attending Easterseals just before her first birthday, and she immediately made connections with the staff and other children. Sophia was eventually diagnosed with cerebral palsy and epilepsy, but the therapy services she received—speech, occupational, and physical—truly improved her overall skills so the staff could better identify and meet her needs.
"Because Sophia's movement is so restricted, it is extremely difficult for her to do the same activities as other children," said Ellen. "The staff at Easterseals found equipment for her to use to do regular, daily activities, and helped her develop ways to communicate. That is really why I'm so thankful for Easterseals." Easterseals stepped in to teach Sophia life skills she needed that she could not learn at home. Sophia is an only child and has very limited verbal skills, so the inclusive classroom environment also helped her to develop her social skills through classroom activities, and simply laughing and playing with the other children.
Sophia is now a first grader, and attends a special education class that she loves. "Easterseals gave both of us the skills we needed to experience the real world," said Ellen. "Easterseals wasn't just a school for us, but they were more like a family; a family we will always have a loving relationship with." Ellen and Sophia both had an experience at Easterseals that will remain with them for years to come, and we are grateful to have them as part of the Easterseals family.
DONATE NOW to help other children like Sophia thrive.