James Burdick
One Step at a Time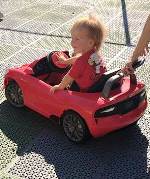 James began receiving child care at Easterseals Harry and Jeanette Weinberg Child Development Center in Washington, DC when he was about four months old. His parents noticed that his leg turned in slightly since birth, and it was eventually discovered that James had a condition known as bilateral congenital pseudoarthrosis of the tibia.
Upon coming to Easterseals, both of James' tibias curved slightly - the left leg had a fracture and the right leg was in "pre-fracture" stage. These fractures are very difficult to correct, as the bone does not heal like normal bone. This type of bone abnormality can be seen in children with neurofibromatosis type 1 (NF1). James was referred to a geneticist who determined he did indeed have NF1. In addition to the leg condition, James also had low tone (hypotonia) and internal tumor growths that impacted his overall movement.
Althought James faced these challenges daily, he was always in good spirits. Over the course of the last three years, through the hard work of James, his family, teachers and therapy team at Easterseals, he has acquired many new skills and is making tremendous progress. James is now speaking in complete sentences, and is able to communicate his wants and needs.
James is currently using Knee-Ankle-Foot Orthosis (KAFOs) [metal, boot-like braces], which allow him to stand independently and shoot basketballs - his favorite activity. With the assistance of a gait trainer James has also begun taking steps and can even kick a ball. Thanks to GoBabyGo, he's really on the move now!
DONATE NOW to help other children like James.