Winter Wear Donations for Veterans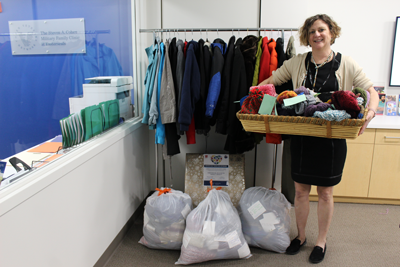 Thanks to the generosity of a group of seniors and children, and the efforts of the staff of the Steven A. Cohen Military Family Clinic at Easterseals, area veterans, their families and military families will be warm this winter.
RSVP (Retired Senior Volunteer Program) Yarners are groups of knitting enthusiasts working at three senior centers – Rockville Senior Center, Holiday Park Senior Center and Margaret Schweinhaut Senior Center- in Montgomery County. They knitted beautiful winter stocking caps for children and adults, which were taken to the Montgomery County Volunteer Center's Martin Luther King, Jr., Day of Service at the Bethesda North Marriott, where students from Burtonsville Elementary School wrote and attached notes of encouragement and inspiration to them.
The Cohen Clinic is conducting a Winter Coat Drive for Veterans, in partnership with Veterans on the Rise. We will collect gently used coats until February 8, then donate them to veterans at a variety of events and venues in the area. Donations can be dropped off at 1420 Spring St., Silver Spring, MD 20910, or for more information about the coat drive, you can e-mail Cohen Clinic Outreach Manager Candance Willett by clicking here.