Easter Seals Makes a Difference in the Community
What's New
In recognition of the critical services it provides to people with disabilities or special needs and their families, Easter Seals Serving DC | MD | VA was chosen as the Gingrich Foundation Charity of the Month for June.
The Easter Seals Child Development Center at the National Archives & Records Administration in College Park, Maryland received the the highest rating of quality early care and education (Level 5) from the Maryland State Department of Education.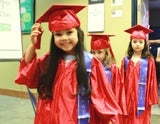 The Safeway Inc. Child Development Center at the Harry & Jeanette Weinberg Inter-Generational Center in Silver Spring, Maryland celebrated graduation with friends and family on Friday, June 12. Teachers and administrative staff help the children showcase all they learned over the past year.
The Easter Seals Serving DC | MD | VA Veteran Employment Program hosted a Veteran Career Prep Workshop, Thursday, June 11, for veterans, military personnel, military spouses and homeless veterans seeking employment.
Nancy Commisso, Director, Military Family and Wounded Warrior Caregiver Support, Easter Seals Serving DC | MD | VA, received the Distinguished Partner award at the Fairfax County's Annual Neighborhood and Community Services Recognition Awards ceremony on May 21.