Our mission is to spread help, hope & answers
Easter Seals provides exceptional services to ensure that all people with disabilities or special needs, including military, wounded warriors, veterans and their families, have equal opportunities to live, learn, work and play in their communities. Stay connected! Sign up to receive news and special announcements.
Easter Seals Makes a Difference in the Community
What's New


Tuesday, April 21, Easter Seals Serving DC | MD | VA hosted the Montgomery County Commission on Veterans Affairs monthly meeting. This partnership, led by Stan Seidel, is part of Easter Seals' effort to serve veterans and their families in every way it can...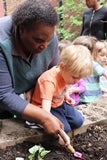 Children at the Easter Seals Child Development Center in Silver Spring enjoyed an entire week of spirit-filled activities for Week of the Young Child. On Wednesday, April 14, children and staff from the Child Development Center joined in with staff and seniors from the Adult Day Services for a little inter-generational gardening...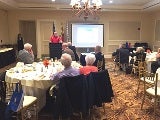 Wednesday, April 15, Stan Seidel, Easter Seals Serving DC | MD | VA Veteran Staffing Network, attended the Military Officers Association of America (MOAA) Montgomery County Chapter Monthly Luncheon, to discuss and share the many programs Easter Seals has developed to serve military personnel, veterans and their families.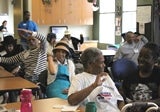 We've all heard that dancing can be healthy for the mind body and spirit. Well, this is exactly what the seniors are learning during the newly-incorporated, weekly zumba activity at the Adult Day Services (ADS) in Silver Spring.