Easter Seals Makes a Difference in the Community
What's New
Easter Seals is thrilled to introduce you to Ms. Marie Kopp, who turned 106 years old Friday, August 7th at the Edward N. Della L. Thome Adult and Senior Care Center on The Harry and Jeanette Weinberg Campus in Baltimore, Maryland.
Friday, September 18, Sin Yea Kook, Career Coach, Easter Seals Veteran Staffing Network, attended the Virginia Employment Commission's (VEC) Annual Veteran Hiring Event on behalf of Easter Seals Serving DC | MD | VA.
Wednesday, September 16, Amy Cress, Director of Communications at Easter Seals Serving DC | MD | VA sat down with Yolanda Vazquez of Comcast Newsmakers to discuss how Easter Seals is making an impact in the community.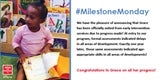 Easter Seals is extremely poud to announce that Grace has been officially exited from early intervention services due to progress made! Last summer Grace was found eligible for early intervention services due to developmental delays (at least one area of 50% delay or at least two areas of 25% delay).
We are proud to introduce you to Ms. Paula Speck! Ms. Paula has been thriving in our Adult Day Service program for nearly two years! Almost a decade ago, Ms. Paula suffered from an unexpected stroke leaving her unable to speak and using a wheelchair to get around.