Our mission is to spread help, hope & answers
Easter Seals provides exceptional services to ensure that all people with disabilities or special needs, including military, wounded warriors, veterans and their families, have equal opportunities to live, learn, work and play in their communities. Stay connected! Sign up to receive news and special announcements.
What's New
Reverend Douglas Moore's life has been nothing short of exceptional. He inspired a generation and helped shape the Civil Rights movement by leading the Royal Ice Cream Parlor sit-in, which took place in Durham, North Carolina in 1957.

In January, Friendly's Ice Cream, LLC launched its 34th annual 'Cones for Kids' campaign. The Valentine's Day fundraiser will benefit 19 Easter Seals Camp Friendly's programs. For a $1 donation, Friendly's provides restaurant guests with five Valentine's Day cards, redeemable for free Friendly's Kids Cones or a coupon booklet with money saving coupons.
Montgomery County, Maryland has declared that 2015 shall be the Year of Montgomery County's Veterans and Their Families.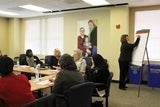 On Tuesday, January 19, Easter Seals Serving DC | MD | VA hosted the first meeting of its new Autism Professional Advisory Committee (PAC). THe purpose of the PAC is to help Easter Seals staff design a world-class, intensive early-intervention program for children with Autism Spectrum Disorder beginning as early as 18 months of age.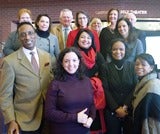 Our very own Jill Chimka, Regional Director of Early Intervention Services, and Sophia Berry, Director, Easter Seals Child Development Center of Northern Virginia, were invited to speak on Wednesday, January 7, at the Virginia General Assembly State Budget Hearing by Voices for Virginia's Children. Jill and Sophia spoke on the importance of early intervention funding as part of the Early Childhood Education Unified Agenda.