Intergenerational Center Takes Part in Walk Maryland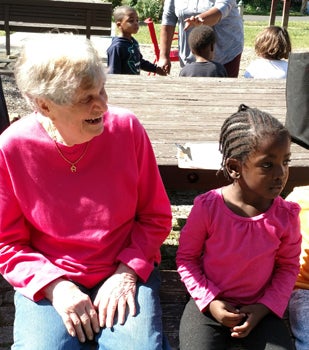 Did you know that walking is the official state exercise of Maryland? To promote awareness about regular walking for physical activity and improved health, the state has an official celebration to engage Marylanders with fun walks of all sizes and shapes during the first full week of October.
Walk Maryland fits in perfectly with our inter-generational programs at The Harry and Jeanette Weinberg Inter-Generational Center at our Silver Spring headquarters, allowing us to bring together the children at our Child Development Center with our Adult Day Services clients for a walk in the sunshine at a nearby park.
Elizabeth Davis, the resident Registered Nurse and Medical Director for Adult Day Services in Silver Spring described the magical afternoon:
"When we arrived to the park, everyone sat down and we began singing songs. Seeing the interaction between the toddlers and the elders was amazing! As we got up to leave, a little guy took the hand of one of the elders and didn't want to leave him – he wanted the elder to be his buddy for the walk back."
Walk Maryland was a special day for all the participants, but is just one example of how Easter Seals' inter-generational program creates opportunities for people to contribute at all stages of life through daily multi-generational activities, and helps build a society that truly values people of all ages and abilities.