Easter Seals Honors Those Who Served on Veterans Day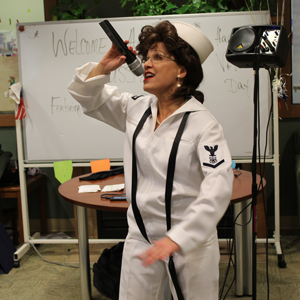 To commemorate Veterans Day 2017, our Adult Day Services in Silver Spring was converted into the "U.S.S. Easter Seals," and our clients were transported to the deck of an aircraft carrier to witness a USO-style revue from Señorita Sunshine. She serenaded the audience with a medley of wartime favorites from the 1940's and 50's and patriotic tunes while decked out in period attire. The veterans in attendance received special gifts in honor of their service, and all were treated to cake after the performance.
At our Baltimore Adult Day Services Center, the Veterans of Foreign Wars helped make their Veterans Day ceremony a special occasion for the almost 40 of our clients there who have served our nation.
State Commander Bill Miller of the Maryland State VFW and Ralph Murray, chapter commander of the Lt. Peter G. Zouck VFW Post 521 in Owings Mills, MD were joined by volunteers from Northrup Grumman's Lord Baltimore office for a special ceremony. Bill and Ralph provided some history about Veterans Day and our armed forces with help from the volunteers. Then all the veterans were recognized by name and presented with a special certificate, mini American flag with a poppy and pin thanking them for their service followed by a salute from the VFW team.
To cap the ceremony, Bill presented new Center Director Kim McKay with an American Flag to welcome her. In return, we presented Bill with a special certificate thanking him for his special attention to the veterans of the Baltimore center over the years.