Triumph Annual Golf Tournament to Benefit Easter Seals Serving DC|MD|VA and Military Families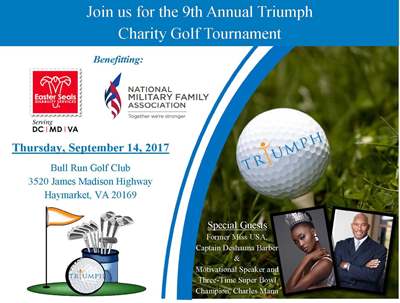 Easter Seals would like to remind you that Thursday, September 14th, Triumph Enterprises will host its 9th Charity Golf Tournament to benefit Easter Seals Serving DC|MD|VA and military families. The tournament will be held at the Bull Run Golf Club in Haymarket, Virginia. There is still time to register!
Special Guests include Former Miss USA, Captain Deshauna Barber, and Motivational Speaker and Three-Time Super Bowl Champion, Charles Mann, who is also an Easter Seals Serving DC|MD|VA Honorary Board Member. Join Triumph and friends for a full day of food, fun, golf and giving! Full proceeds from the event will benefit Easter Seals and the National Military Family Association.
On Sunday, June 5th 2016, Deshauna Barber was crowned the first Miss USA to currently serve in the United States military. Deshauna has a passion for our men and women in uniform and has spent much of her career focusing on advocating for soldiers suffering from Post-Traumatic Stress Disorder (PTSD). We are thrilled about our partnership in making a difference in the lives of military families.
To view the full video of DeShauna discussing the importance of the golf tournament and its benefit for military families, please visit our Facebook page by clicking HERE.
For additional information about the tournament, or to register, please visit the website by clicking HERE.