Easter Seals Serving DC|MD|VA and Military Families Receive Proceeds from Triumph Annual Golf Tournament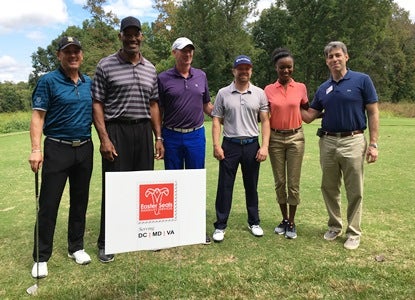 Thursday, September 14th was a spectacular day for golf and philanthropy at Bull Run Golf Club in Haymarket, Va. for the ninth-annual Triumph Enterprises Charity Golf Tournament. The tournament benefitted Easter Seals Serving DC|MD|VA and the National Military Family Association. Located near the historic Civil War battlefield of the same name, the course features panoramic views of the foothills of the Shenandoah Mountains.
More than 70 golfers took part in the event, which featured a shotgun style start, and contests for the men and women for longest drives and closest to the pin. The golfers were greeted in the morning with remarks from Triumph President & CEO, Scott Ulvi, retired U.S. Army Major General, Easter Seals Board of Directors member, John McDonald, and NMFA Director of Development Jen Pusatere. Also in attendance were celebrity guest hosts Charles Mann, legendary Redskins defensive end and three-time Super Bowl Champion, and Deshauna Barber, a Captain in the U.S. Army Reserves and former Miss U.S.A. representing the District of Columbia. Mann and Barber were also present throughout the day on the course, making the rounds with Easter Seals President and CEO, Jon Horowitch, so all the golfers could meet them individually and have their photos taken with them.
After a gorgeous day on the course, attendees were treated to a buffet at the club house, where the fundraising continued with a raffle and silent auction, featuring a wide range of items and services, such as Washington Nationals and NASCAR tickets, a designer golf bag with putters, sports memorabilia, wine tastings, dog training, and more.
In the end, the event raised $60,000 to be distributed evenly between the beneficiaries. Easter Seals wishes to thank Triumph Enterprises for selecting Easter Seals as one of the charities benefitting from the event, and all the corporate sponsors, raffle item donors, and volunteers who made this great day possible.
About Triumph:
Triumph Enterprises, Inc. (Triumph) offers the federal Civilian and Defense markets personalized knowledge-based professional services. Our company provides world-class solutions to our clients and fosters a culture wherein our people are empowered to make a positive difference. Our pursuit of excellence is driven by an emphasis on Client Focus, Integrity, Imagination, and Employee Engagement – the Core Values that motivate and inspire our leadership, business practices, and company culture.