A Visit from Santa Fills the DC Child Development Center with Holiday Cheer Thanks to TEGNA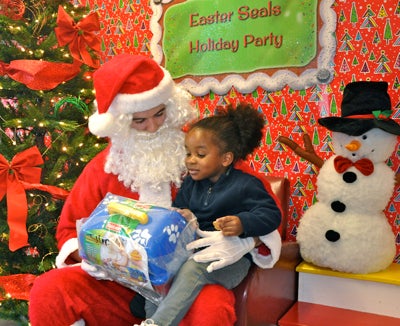 On Wednesday, December 13, the children enrolled at The Harry and Jeanette Weinberg Child Development Center were treated to a visit from Santa Claus. It's a yearly tradition filled with smiling children clutching their new toys, thanks to TEGNA, Inc., whose employees collect and distribute gifts to the children and families at the Washington, DC, Child Development Center location.
The dedicated center staff created a magical "winter wonderland" setting for Santa's visit, and every child left with a gift in hand and a smile on their faces, all made possible by TEGNA.
Joining the children, center staff and volunteers from TEGNA were Easter Seals President and CEO Jon Horowitch, and Gracia Martore, President and CEO of TEGNA, Inc., and wife of Easter Seals Board member Joe Martore of Cailbre Systems, Inc.
"This year's visit from Santa Claus was another great success, thanks to the generosity and commitment of TEGNA," said Jill Chimka, Regional Director of Early Intervention Services at Easter Seals. "The children received some spectacular gifts like tricycles, trampolines and kitchen sets. Being so young, a few of them were a little hesitant about meeting Santa at first, but burst into smiles at the sight of the toys. It's a wonderful event, and Easter Seals is so appreciative of the effort that TEGNA and the Martores put into making the day special for our kids and their families."
Easter Seals' Early Care and Education Centers provide high-quality care for children six weeks to five years-old in a unique environment where children of all abilities learn together. Early identification and intervention services guarantee that children at our Centers reach their potential to succeed in kindergarten and beyond. To learn more, click here.