NBC Washington Breaking News Reporter, Shomari Stone, Spends Time with Clients at Easter Seals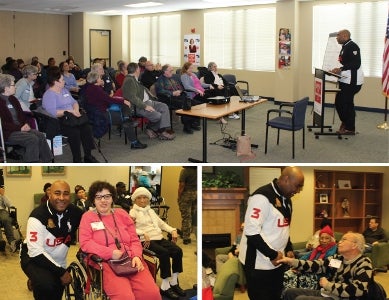 Thursday, March 16th, Shomari Stone, journalist and NBC Washington breaking news reporter, was a featured guest at the Harry and Jeanette Weinberg Inter-Generational Center in Silver Spring, who shared his journey of becoming a reporter with Easter Seals clients and staff, and other members of the local community.
During the presentation, held in the Richard & Rae Swirnow Center of Excellence in Training, Shomari shared one of his most inspirational quotes that kept him going over the years: "There is no escalator to success. You have to take the stairs." Shomari also toured the Inter-Generational Center, and gave an extra special presentation to the seniors at the Morris & Gwendolyn Cafritz Foundation Adult Day Services.
Shomari Stone is a general assignment reporter for News4, specializing in breaking news coverage for News4 at 11. Shomari has earned two Emmy nominations, and although he graduated from high school in Washington, D.C., he has lived in and covered stories in cities all across the United States.
This presentation was part of Easter Seals' community outreach efforts,in partnership with the Silver Spring Village, providing opportunities to keep our clients, caregivers, and other members of the community engaged and informed. Easter Seals offers many free, community events and training opportunities for clients and caregivers.
For additional information about our community outreach, please visit us HERE.