Shawnt
é Ball, Easter Seals Staff Member, Receives Cohen Veterans Network Founder's Award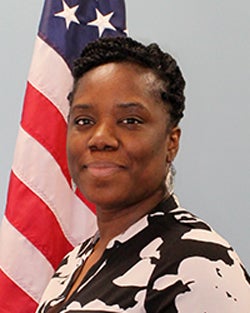 We would like to congratulate Easter Seals staff member, Office Manager of the Steven A. Cohen Military Family Clinic at Easterseals, Shawnté Ball, for receiving the Cohen Veterans Network (CVN) Founder's Award. The purpose of this award is to annually recognize, celebrate, and reward the team member who most faithfully demonstrates integrity, community, and excellence as exemplified by CVN founder, Steven A. Cohen.
Shawnté Ball faithfully demonstrates integrity and is at the heart of the Cohen Clinic at Easterseals. As the second employee of the Cohen Clinic at Easterseals, Shawnté has played a significant role in the successful launch of our Cohen Clinic, as well as in shaping the culture and leading by example.
Shawnté's long tenure with Easterseals helps her seamlessly create a sense of community by fostering strong collaborative relationships with all of the programs for veterans and military families in the Easterseals portfolio. Since we opened the Cohen Clinic at Easterseals, we are seeing a number of warm hand-offs between the Cohen Clinic, our Veteran Staffing Network, the Little Warriors Scholarship Program, and the Military Family Respite Program.
For additional information about our military programs, please visit us HERE.