Northrop Grumman Volunteers Spread Summer Cheer at the Edward N. and Della L. Thome Adult and Senior Care Center in Baltimore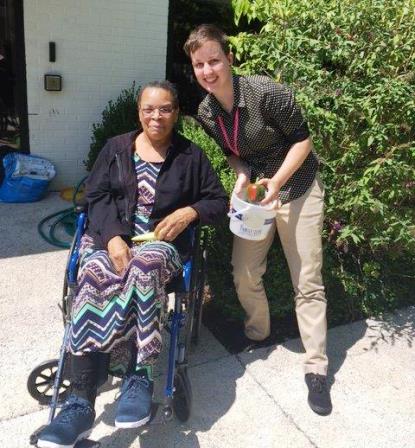 As part of a community outreach, a group of volunteers from Northrop Grumman Corp. recently paid a visit to the The Edward N. and Della L. Thome Adult and Senior Care Center on the Harry and Jeanette Weinberg Campus in Baltimore, Maryland.
Northrop Grumman volunteers came to Easter Seals to participate in fun, everyday activities like board games, arts and crafts, beading, and outdoor activities. Volunteers also spent quality time just chatting and enjoying the company of the clients at the Senior Care Center. Everyone experienced a day filled with games, gardening, and fun.
Northrop Grumman Corp., an American global aerospace and defense technology company, provides innovative systems, products and solutions to government and commercial customers worldwide. Northrop Grumman Corp. provides additional services to servicemembers and their families transitioning to civilian life, the environment, and the general community.
Easter Seals is committed to advancing opportunities for children and adults with disabilities or special needs, including wounded warriors, military personnel, veterans and their families. We thank Northrop Grumman for their support, and we look forward to our continued partnership in making a difference.
For more information about our Adult Day program, please visit us HERE.