Easter Seals Celebrates 100th Birthday of Longtime Participant, Ms. Lucille Lloyd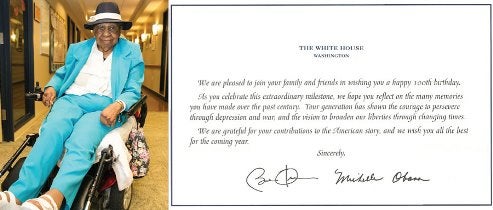 Wednesday, December 28th, Easter Seals celebrated the 100th birthday of longtime participant, Ms. Lucille Lloyd, at The Morris & Gwendolyn Cafritz Foundation Adult Day Services in the Harry and Jeanette Weinberg Inter-Generational Center in Silver Spring. The celebration included live entertainment from Senorita Sunshine, cake, and lots of love from the Easter Seals family. Ms. Lucille was also presented with a Presidential certificate and greeting to commemorate this milestone from former President and Mrs. Obama.
"She loves attending Easter Seals," said Theresa Moore, Ms. Lucille's daughter-in-law. If the bus is ever running late, Ms. Lucille calls Theresa to ask her why the bus has not come to pick her up yet. "It has become a part of her daily routine; it is something she looks forward to."
Ms. Lucille is a Maryland native; she has been attending Easter Seals for six years. She was a very independent woman before experiencing health complications a few years ago, that eventually left her confined to a wheelchair. Ms. Lucille was initially enrolled in a nursing home, but she was not happy with the results. She and Theresa began looking for an alternative arrangement that would provide Ms. Lucille with more activities and socialization. They turned to Easter Seals, and are both happy to be part of the Easter Seals family.
"It's our turn to celebrate Ms. Lucille Lloyd and her wonderful life", said Center Director Elizabeth Klosek. "At Easter Seals we have the opportunity to be a part of history every day; serving teachers, veterans, community leaders and community volunteers. Having Ms. Lloyd here, with 100 years of history is not something most are lucky enough to experience. Today we celebrate her life, history and journey."