Easterseals Receives $1 Million Donation from Longtime Supporter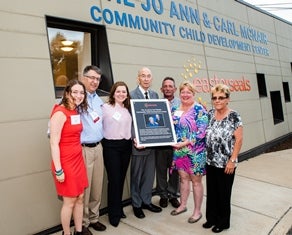 Easterseals DC MD VA received $1 million from retired Major General Carl H. McNair, Jr., USA (Ret.) to support the All Thrive Campaign, which aims to grow all Easterseals programs that benefit children, adults, veterans and their families living with disabilities or special needs.
For more than three decades, the McNairs worked side by side to raise funds for Easterseals critical programs and services through telethons, the Advocacy Awards dinners, Bright Stars, and other special events. Maj. Gen. McNair has also provided great insight and leadership as a member of the Easterseals Board of Directors for many years, and he continues to share his knowledge and guidance as an Emeritus Board member.
To honor the McNairs for their commitment to helping members of the community reach their greatest potential, Easterseals has named its child development center in Northern Virginia "The Jo Ann and Carl McNair Community Child Development Center". Easterseals hosted a special dedication ceremony on June 12 at the center to unveil the new name to the community. The center is located in Falls Church, Virginia.
We thank the McNairs for their dedication to Easterseals, and for their continued support and generosity to spreading our mission throughout the years.
To view the full press release, please visit us HERE.