Clients at the Morris & Gwendolyn Cafritz Foundation Adult Day Services Head Out for a Little Lunch on the Town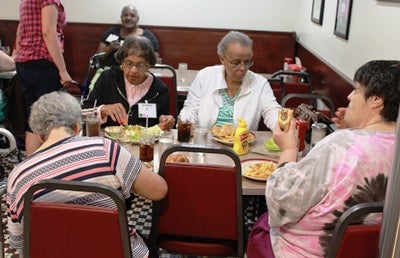 Senior clients from The Morris & Gwendolyn Cafritz Foundation Adult Day Services in the Harry and Jeanette Weinberg Inter-Generational Center were recently treated to "Lunch on the Town." As part of the enrichment curriculum at the Adult and Senior Care Center, participants took a trip down Memory Lane by eating at the Tastee Diner, a local restaurant that has been in the neighborhood since 1935.
The Easter Seals program provides social, medical, recreational, rehabilitative, and educational and group activities that stimulate, engage and encourage our seniors and adults to embrace learning, encourage independence and enjoy themselves. "Lunch on the Town" is an example of one of the wide variety of activities our Adult Day Services program offers, where participants can take part in the instrumental activities of daily living.
The staff members at our centers are committed to providing the best possible care for your loved ones needing assistance with daily living, while providing resources to support the entire family.
For more information about our Adult and Senior Care program and locations, please visit us HERE.