Easter Seals Serving DC|MD|VA Announces Latest Honorary Board Members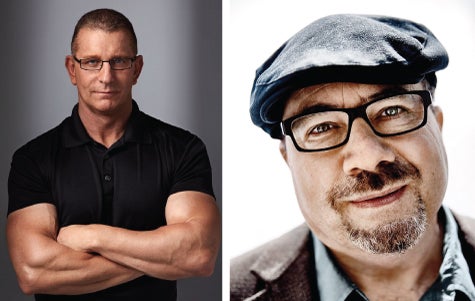 Easter Seals Serving DC|MD|VA is pleased to announce that celebrity chef Robert Irvine and Craig Newmark, founder of craigslist, have joined the organization's Honorary Board of Directors. Easter Seals Serving DC|MD|VA created the Honorary Board in 2016 as a collection of business leaders, dignitaries and celebrities renowned for their leadership in making a difference for the children, adults and seniors, veterans and military personnel, caregivers and their families who turn to Easter Seals for help, hope and answers.
"We are so pleased to welcome these two celebrated figures to this phenomenal grouping of leaders from all sectors of American life," said Jon Horowitch, President and CEO, Easter Seals Serving DC|MD|VA. "Chef Irvine's passion for supporting our service men and women will help us increase awareness of our mission of ensuring that all people with disabilities or special needs, including veterans and military families, have equal opportunities to live, learn, work and play in their communities. Having an internet and social network innovator like Craig Newmark will help us grow and transform our programs for a digital future through initiatives like telehealth, which will allow us to expand our reach exponentially."
Easter Seals Serving DC|MD|VA launched the Honorary Board of Directors last year to increase awareness of Easter Seals programs, services and events among potential supporters and partners, and to consult with and advise the organization's leadership team regarding emerging trends across Easter Seals program areas.
The Honorary Board includes: The Honorable Elizabeth Dole, Former United States Senator (NC) and Founder, Caring for Military Families: The Elizabeth Dole Foundation; Bobbie Kilberg, President & CEO, Northern Virginia Technology Council (NVTC); Charles Mann, Philanthropist, Motivational Speaker and Three-Time Superbowl Champion; Deborah Mullen, Military Family Advocate; Gary Sinise, Actor and Activist; and Judy Woodruff, Anchor and Managing Editor of the PBS NewsHour.
Chef Irvine is well known to television viewers as the host of The Food Network's "Dinner: Impossible," "Restaurant: Impossible" and his daytime talk show which currently airs weekdays on The CW titled "The Robert Irvine Show."
Irvine joined the British Royal Navy at 15 and spent the following 10 years touring Europe aboard various naval ships including Her Majesty's Royal Yacht Britannia. After his Navy service, he continued to expand his culinary skills at hotels, casinos and on cruise ships. He counts being the head chef for the 2006 Children Uniting Nations Academy Awards Party as one of the highlights of his career, and recently contributed the special dessert to Easter Seals Serving DC|MD|VA's 2017 Advocacy Awards dinner.
Although he has a passion for cooking, and believes enjoying a good meal brings people together, being able to help people is what drives Irvine, from helping families survive the stress of a failing restaurant on "Restaurant: Impossible" to honoring our military for the service to our country through his Robert Irvine Foundation. "I believe one of the greatest things I can do with my success is to give back to those in need of a little guidance or to those who make sacrifices for us to enjoy our freedom," said Irvine. "Helping children and the men and women in our military is very special to me, and Easter Seals provides me wit
Craig Newmark is a Web pioneer, philanthropist, speaker, and one of America's most recognized nerds. He was inducted into the Internet Hall of Fame in 2012. In 2013 he was named "Nerd-in-Residence" by the Department of Veterans Affairs' Center for Innovation in recognition of his volunteer work with the department to enhance services to veterans and military families.
In 1995 Craig founded craigslist, the online classified advertising site that has seen more than 5 billion ads posted. While Craig has not been part of craigslist management since 2000, he stays connected to the site's users through his involvement with Customer Service.
In 2016 he created the Craig Newmark Foundation, a private foundation to promote philanthropy and civic engagement through a number of initiatives. The foundation supports charitable and education causes with a focus on consumer protection and education, veterans and military families, government transparency, public diplomacy, voter protection and education, micro-lending to alleviate poverty, and women in technology.
"I've been fortunate to have stumbled on an idea that was really just about using technology to help people and create community, and it turned out to be very successful," said Newmark. "That's the beauty of the internet - it's about inclusion - and that's what Easter Seals is all about. Ensuring that everybody gets the same opportunities to live, learn work and play in their community. I'm pleased to join Easter Seals' Honorary Board."
To view the current list of Board members, please click HERE.