Halloween at the Inter-Generational Center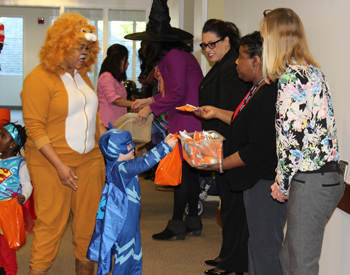 Halloween at an Easter Seals Serving DC|MD|VA Child Development Center is not just another school day. The holiday gives everyone there- the teachers and support staff along with the children- a chance to have some costumed fun together, and the kids get some trick or treating in, as well, along with their regular instruction and activities. It's a veritable parade, as the teachers lead princesses, cowboys, monsters and superheroes around the building collecting healthy treats, and showing off their costumes.
This year's Halloween festivities at The Safeway, Inc. Child Development Center in The Harry & Jeanette Weinberg Inter-Generational Center at our Silver Spring headquarters coincided with one of Easter Seals' quarterly meetings of our Board of Directors. Our Board provides Easter Seals' leadership with the foresight, oversight, and insight a non-profit service provider needs to function, and is comprised of talented, dedicated and compassionate leaders from the local business community. This was a great chance for them to see how their efforts pay off in the form of smiling young faces asking for treats. Even if some of those faces were hidden behind masks!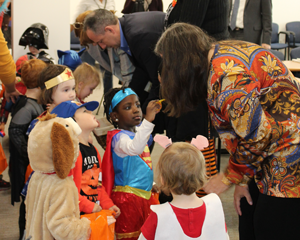 Easter Seals' headquarters staff also got into the spirit by participating in a Costume Contest! Children from Child Development Center voted for their favorite costume wearers. Congratulations to Team Respite for their hilarious take on Dunkin Donuts!