Hagerstown Goes Hayriding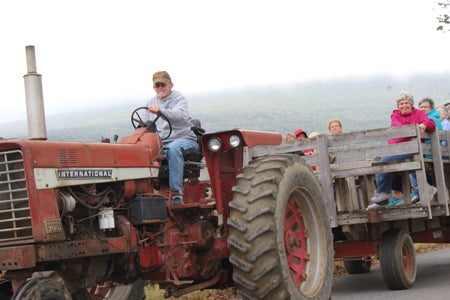 Clients from our Hagerstown Adult Day Services center were recently treated to an outing in the country.
Misty Meadows Farm Creamery is a family operated farm and creamery located in nearby Smithsburg, Maryland in the beautiful Hagerstown Valley of the Blue Ridge Mountains. Befitting the name, it was a misty day which obscured the tops of the nearby mountains, but still allowed for a beautiful display of fall foliage as they passed rolling hills, streams, forests, orchards and farms on the ride there.
As they were towed by tractor across the property and experienced the sights and sounds of a working dairy farm, the clients also were educated on the cows, sheep and even mini-horses that call the farm home. In the spirit of the fall season, after their tour of the dairy operation and various crops grown there, they visited the pumpkin patch to pick their own souvenirs of the day.
Their day in the country was topped off, by, what else, but a sampling of the delicious Halloween-themed flavor ice cream made right there at the farm.
To learn more about our Adult Day Services in Hagerstown, Baltimore or Silver Spring, click here.