Hagerstown ADS Clients Learn About the Rich Railroad History of the "Hub City"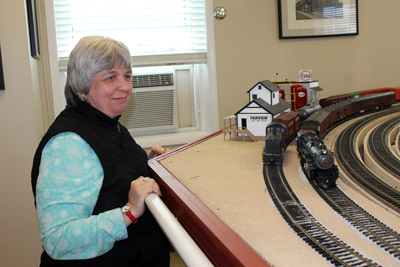 Hagerstown was nicknamed the "Hub City" because of the large number of railroads that served the city. It was the center of the Western Maryland Railway and an important city on the Pennsylvania and Baltimore and Ohio Railroads. It remains a vital location on various freight lines.
Clients from Easter Seals Adult Day Services in Hagerstown recently visited the Hagerstown Roundhouse Museum, located next door to the busy working rail yard. Volunteers explained the exhibits, artifacts and rich history. Our clients appreciated the various model railroad displays, and enjoyed the opportunity to take the throttle of a simulator and see what it is like to run a train!
"We were happy to welcome Easter Seals Adult Day Services to the Hagerstown Roundhouse Museum," said Museum Volunteer Mike Collins. "The staff and volunteers enjoy having visits from members of community organizations like yours, and look forward to the next visit."