Eastserseals DC MD VA Celebrates Graduation and Kindergarten-Readiness Throughout the Region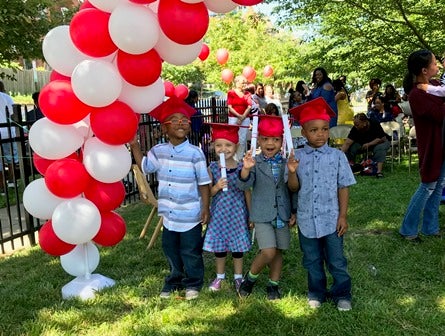 June marks graduation month for the early care and education program at Easterseals DC MD VA. Children at the Jo Ann & Carl McNair Community Child Development Center; the Safeway Inc., Child Development Center in Silver Spring; the Harry and Jeanette Weinberg Child Development Center in Washington D.C.; and the Easter Seals Child Development Center at the National Archives in College Park, all celebrated graduation and kindergarten-readiness this month.
Family and friends attended the moving up celebrations, and each graduate was given a diploma from the child development administrators. Easterseals Early Care and Education Centers provide inclusive, high-quality services so that all children can grow and learn together. Our program, centered around the Creative Curriculum, includes full-day childcare, parental support, and inter-generational activities to ensure a successful transition into kindergarten. Easterseals provides services for children with and without disabilities, six weeks to six years of age.
Each Easterseals celebrates graduation every spring. For more information about our Child Development Program, or to get involved, please visit us HERE.