Celebrating The Good Shepherd Ministries' Continued Support of Easter Seals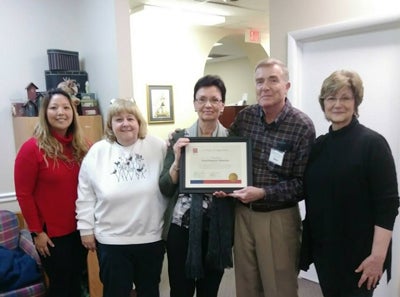 Elizabeth Barnes, Senior Director of Adult and Senior Services, recently visited our Easter Seals Adult Day Services in Hagerstown, Maryland to present a special Certificate of Appreciation to The Good Shepherd Ministries of Hagerstown for their longtime and deeply committed support of the Senior Care Center.
Members of the congregation have been visiting the Center for close to a decade, and over the last five years have conducted twice-monthly visits where volunteers engage the clients with music and singing, games, and arts and crafts.
For many of the adults we care for in Hagerstown, the highlight of the year is the Annual Holiday Banquet at the church where clients receive gift bags full of presents specially selected for each individual, get to enjoy a home cooked holiday meal of turkey with all the trimmings and even get to have their picture taken with Santa.