Easter Seals Celebrates Earth Day with the Safeway Inc., Child Development Center in Silver Spring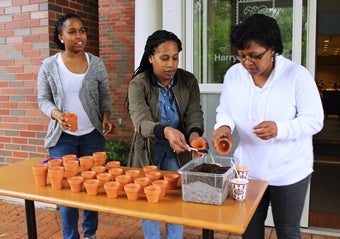 Saturday, April 22nd, the Safeway, Inc. Child Development Center hosted an earth day celebration at the Harry and Jeanette Weinberg Inter-Generational Center in Silver Spring, Maryland. The day was filled with "green" activities to teach the children about the importance of caring for the earth. The event was open to the public.
Several families from the local community attended the event that featured terra cotta pot planting for each child to take home, a "green" sensory table with dinosaur digging, face painting, and even treats from Rita's Italian Ice. The children also learned a very valuable lesson at the earth day celebration: It is up to the children to care for the earth and keep it alive for a very long time. Families who are new to Easter Seals were also invited to tour the child development center and learn more about the services provided there.
Easter Seals Serving DC|MD|VA has been providing vital services for the entire family for nearly 100 years. The Safeway, Inc. Child Development Center has been serving the community for nearly 10 years. Each child development center provides high-quality inclusive programs that feature early intervention and education; full-day childcare; parental support and inter-generational activities; and scholarships for child development and respite care for Wounded Warriors and their families through the Little Warrior Child Development Program.
For additional information about our Early Care and Education Program, please visit us HERE.