Comcast NBCUniversal Funded Assistive Technology: Mason's Story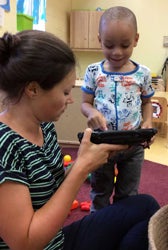 Mason is a three year-old boy diagnosed with Autism Spectrum Disorder. He is currently enrolled at the Easter Seals Harry and Jeanette Weinberg Child Development Center in Washington, D.C. Through a specialized team of therapists, Mason receives speech and therapy services to help address his language delay.
When Mason started at Easter Seals, his spoken language was limited, and he had difficulty communicating with the other children. Mason started using an Accent 800 speech-generating device provided through the generous support of Comcast NBCUniversal. The device has helped bolster Mason's use of spoken language, and now he's using a variety of single spoken words, like "milk" and "bagel," that he first learned how to use through the device. Mason continues to use the Accent 800 in the classroom while our staff helps his family work with their insurance to purchase a device of his own.
We are grateful to Comcast NBCUniversal for funding this life-altering technology that enables children like Mason to thrive!