Comcast is Making a Big Difference For Children With Disabilities and Their Families at Easter Seals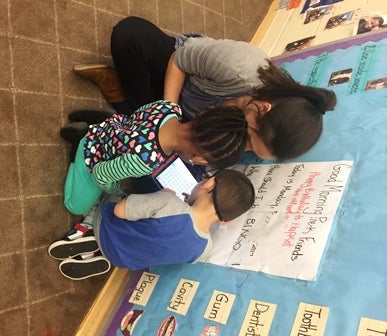 Easter Seals Serving DC | MD | VA is the recipient of the Comcast NBCUniversal Assistive Technology Grant Fund, which is designed to enhance successful programs for people with disabilities and special needs by providing assessment, training and support to address their long-term technology needs.
Thanks to this funding from Comcast, Easter Seals is able to provide kids like Mikey with AAC (Augmentative and Alternative Communication) devices. Mikey experienced a brain injury at birth that impacted his expressive language development. At age four, he had very few intelligible words. But with the use of an Accent 800 device, Mikey is now starting to combine words on the device and is also starting to use more verbal language. Mikey is very excited and happy to communicate (he even gives the device a hug when he sees it first thing in the morning).
We are very thankful for the funding that has enabled Mikey to make great strides in communication. Easter Seals is committed to advancing opportunities for children and adults with disabilities or special needs, including wounded warriors, military personnel, veterans and their families. We thank Comcast for their continued support of our efforts and look forward to helping other children like Mikey grow.
For additional information about the Comcast Grant, please see our Annual Report.