The Cohen Clinic Celebrates 100 Clients and 1,000 Visits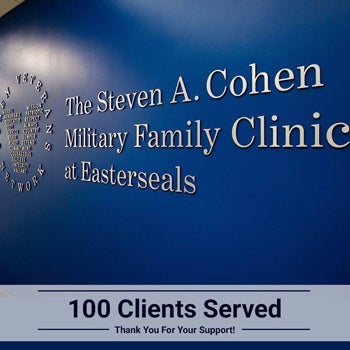 This month, The Steven A. Cohen Military Family Clinic at Easterseals celebrated a milestone with 100 clients served and 1,000 client visits.
The Cohen Clinic at Easterseals provides high-quality, accessible, and integrated behavioral health care to veterans and their families or caregivers. Their no or low-cost services are available to any person who has served in the U.S. Armed Forces, including the National Guard and Reserves, regardless of role or discharge status. Veterans and their family members are able to receive services individually and as a family unit at the same place with the same treatment team. Through client-centered, customized outpatient care, the Cohen Clinic at Easterseals supports veterans and their families as they begin their next mission: healthy and happy lives.
Thank you all for your continued support of our Military and Veteran Services!