Christmas Cheer for Easter Seals Adult Day Services in Hagerstown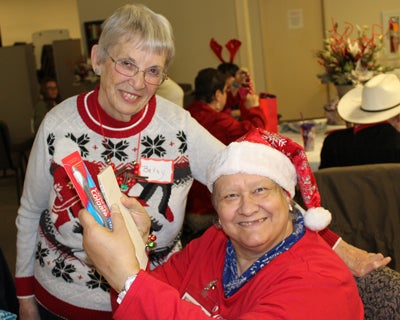 As they have for the last six years, the staff and volunteers from the congregation of The Good Shepherd Ministries helped make the holidays special as they cooked up a Christmas meal for the clients of Easter Seals Serving DC|MD|VA Adult Day Services in Hagerstown. Easter Seals' Adult Day Services in Hagerstown is a medical day program that reaches out to veterans and adults in the tri-state area of Western Maryland ranging from 18 years old to 90 plus, who may have medical and/or mental health needs.
Besides the meal of turkey with all the trimmings and homemade pumpkin pie, all 55 participants attending the program were treated to Christmas carols and were given special gift bags. Members of the congregation each "adopted" a client and put together a special selection of items suited to the clients' needs and likes. The gifts ranged from practical things like grooming supplies, toiletries and clothing like hats, scarves and gloves, to the whimsical like toys, puzzles and coloring books.
As the gifts were passed out, each table was paid a visit by a very special guest – Santa Claus! Santa greeted them all and helped distribute the gifts, and then invited all the clients to have professionally taken individual portraits taken with him. Santa was portrayed by Bud Kline of Hagerstown, who has been playing that role for almost 50 years years at various locations, including The Good Shepherd Ministries Christmas Banquet for Easter Seals the last four years.
Deborah Lauricella, assistant director and activities director of Adult Day Services in Hagerstown, as well as a member of the church, says that the meal and the gifts are about letting the clients know that someone cares. "It's the most exciting day of the year for the clients. They look forward to this all year long. They get gifts, and they have a wonderful homemade dinner. Some of them do not have a family, so this is very important to them."
To see a local news story from WDVM-TV about the banquet, please click here.