Easter Seals Honors Local Eagle Scout Candidate in Ceremonial Ribbon Cutting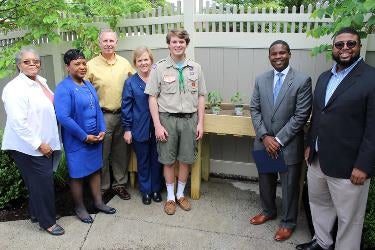 On Wednesday, May 24th, Easter Seals Serving DC|MD|VA was pleased to recognize Eagle Scout candidate Colin Shoul for his dedication to community service, and contributions to the garden at The Edward N. and Della L. Thome Adult and Senior Care Center on The Harry and Jeannette Weinberg Campus.
Colin built and donated several hand-crafted wooden planters for the "Wandering Garden" of the Adult and Senior Care Center in Baltimore. These planters will be part of the community garden, which will provide fresh produce for participants and their families, as well as opportunities for members of the local community to volunteer at the center.
Speaker Pro Tem Delegate Adrienne Jones presented Colin with a citation from the Maryland General Assembly and Charles R. Conner presented a citation from United States Senator Chris Van Hollen. Baltimore County Council Member Julian Jones also attended the celebration.
The Edward N. and Della L. Thome Adult and Senior Care Center on the Harry and Jeanette Weinberg Campus is a renovated industrial park building transformed into a state-of-the-art facility for adult daily care. Among the unique and innovative features that help clients reduce anxiety and advance therapy goals for conditions such as Alzheimer's disease and other forms of dementia, is a beautiful Snoezelen® room and wandering garden.
For additional information about our adult and senior care centers, please visit us HERE.