Easter Seals Hosts Annual Caregiver and Respite Holiday Parties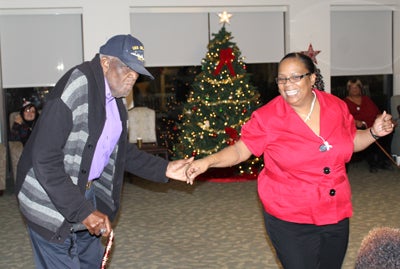 The holidays are a time for coming together, celebrating life, and being merry, but Easter Seals knows how difficult that can be for some. Easter Seals recognizes that caregivers are among those who can feel a little more overwhelmed during this time of year. Many caregivers report feeling isolated, tired, and overworked and find it difficult to make time to socialize and celebrate during the holidays.
This is why we have had multiple events dedicated to caregivers: our third Annual Caregiver Holiday Party in Baltimore, and two separate holiday parties for our Military Family Respite Program in Maryland and Virginia.
This year's Caregiver Holiday party at our Easter Seals Adult Day Services – Baltimore facility, The Edward N. and Della L. Thome Adult and Senior Care Center on the Harry and Jeanette Weinberg Campus attracted 100 reservations! This party celebrates the caregiver, providing them an opportunity to engage, have fun, and let loose.
We had an amazing time with festivities that included raffles, dancing, games, and more. Throughout the evening, we enjoyed listening to one of Easter Seals favorite musical performers, Chyp and Andi. Caregivers had a fabulous time and were very grateful to Easter Seals for hosting this party, and many who had never seen the Center before were curious in learning more about our services!
Meanwhile, we celebrated the holidays with our "Little Warriors" and active duty military families who have children with special needs/disabilities at events held on two successive weekends in MD and VA, with the assistance of the University of Dayton Alumni Association (DC), Flora Singer Elementary School in Silver Spring, The American Legion and the Centreville Moose Lodge 2168 and 1674 of Fairfax. The events embodied the mission of inclusion at Easter Seals, celebrating all families and allowing children with disabilities or special needs, typically developing children, and children of wounded warriors the opportunity to grow, play and learn together.
Nearly 70 children and their families attended the fourth Annual Respite Holiday Parties, participating in a wonderland of activities including, face painting, arts and crafts, games with prizes, and visits from Santa Claus, who brought gifts for everyone. Each child was paired with a volunteer to accompany them throughout the day. Volunteers included Easter Seals staff and several trained volunteers ranging from first-time participants to monthly attendees of the Respite programs.
Parents of the children who attended the parties expressed their appreciation of the relief the monthly Respite program provides. The events weren't just a chance for the parents in wounded warrior and military families to receive much-needed "time off," but also an opportunity for them to meet and interact and enjoy a little fun together, in the company of others facing the same challenges.
Easter Seals Respite Services provides a range of support and enriching experiences for children with and without disabilities, from wounded warrior, military, and civilian families. For more information about our Respite Services, please click here.